We Are All Failing Them @ NW Film Forum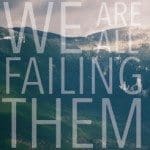 May 8, 2013 - 10:16 am
A new work by Robin Holcomb, Britta Johnson and Curtis Taylor
World premiere commission at the Northwest Film Forum May 16-18th
Part of the series Live at the Film Forum
The border between ambition and hard luck is a blind spot. We Are All Failing Them is a song cycle, performed live with film and objects, that engages in a sideways view of the curious and spectacular tragedy of the Donner Party. Drawing upon the languages of recital, film and staged séance, this evening-length entertainment asks: what gets left behind along the trail to the Promised Land?
The world premiere of this collaborative work by composer Robin Holcomb, filmmaker Britta Johnson and theater artist Curtis Taylor features performances by Robin Holcomb (piano, voice), Peggy Lee (cello), Danny Barnes (voice, banjo) and Susie Kozawa (sound effects).
Support for this new work provided by 4Culture and The MAP Fund, a program of Creative Capital.
Northwest Film Forum is located at 1515 12th Ave in the Capitol Hill neighborhood of Seattle, on 12th Avenue between Pike & Pine Street.