Keep on Truckin'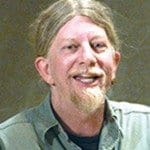 July 28, 2013 - 11:38 am
After 20+ years behind the wheel, Kris Nyrop – founder and co-host of KBCS's popular Grateful Dead Hour and Backtracks – is taking the bus further on down the road.
Kris leaves a legacy of outstanding community service – as an activist, advocate for the poor and homeless, and of course, supporter of the local Grateful Dead community.
You'll have one more chance to honor and celebrate Kris' tremendous contributions at a tribute show at The Royal Room, September 29th, featuring some of Seattle's best jam-bands including The Golden Road & Kuli Loach.
It may have been a long, strange trip but it's also been a hella great one. Thanks Kris!