Music of the Moment: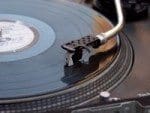 January 31, 2014 - 4:45 pm
5 brand new releases that we can't wait to share with you this month:
Bossacucanova Nossa Onda é Essa (Our Kind of Bossa) – More Brazillian bossa nova fun from this trio.
Amy Ray Goodnight Tender – One half of the Indigo Girls goes traditional country, and it totally works.
Laura Cantrell No Way There From Here – NY songstress and radio dj with her 4th recording and her most accomplished yet.
Cahalen Morrison & Eli West I'll Swing My Hammer With Both My Hands – Produced by the legendary Tim O'Brien, this Seattle duo just keeps getting better and better.
Naomi Wachira self-titled – Debut recording for this Kenyan transplant, who now makes her home in Seattle. A beautiful and an incredibly elegant recording.
Last months top 3 releases:
Sharon Jones & The Dap Kings Give the People What They Want – Sharon spent much of last year battling cancer and she's come back on this recording with a vengeance.
Rosanne Cash The River & The Thread – This album is Rosanne's delightful postcard about the South. She will be coming to town towards the end of the month at The Moore Theater.
Bahama Soul Club The Cuban Tapes – European based group that create fun music.  You won't be able to stand still listening to this album.