Music of the Moment: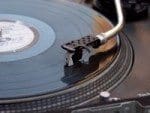 February 28, 2014 - 11:38 am
Music of the Moment:
5 brand new releases we can't wait to share with you this month:
various The Rough Guide to Latin Rare Groove (World Music Network) – Another fun compilation from this long running series. Need to spice up your day?  Put on this record and you'll be dancing along to the music in no time.
Laurie Lewis with Tom Rozum and Nina Gerber One Evening in May (Spruce & Maple) – A lovely, live recording of some new original material from this longtime KBCS core Americana artist.
various Looking Into You: A Tribute to Jackson Browne (Music Road) – A faithful and excellent collection of well-known & lesser known artists celebrating a 45+ year career.
Thomas Blondet Futureworld (Rhythm & Culture) – Debut album from this acclaimed Washington, DC DJ/producer. Full of persuasive, genre blending grooves. Perfect for those who dig beats and world music.
Takuya Kuroda Rising Son (Blue Note) – Jazz that simmers, swirls and pulsates with large doses of R&B and electronic grooves.
Last months top 3 releases:
Naomi Wachira Naomi Wachira (independent) – Not surprisingly, the KBCS music hosts are loving this powerful and gentle album from this Kenyan transplant, who now makes her home in Seattle.
Catherine Russell Bring It Back (Jazz Village/Harmonia Mundi) – Mining often overlooked pieces from the jazz and blues songbooks, Catherine gathers them in and creates songs that are both familiar and refreshingly new.
Bossacucanova Nossa Onda é Essa /Our Kind of Bossa  (Six Degrees) – Who doesn't want to get up and dance when spring is on the way?