Kore Ionz Interview on Reggae Party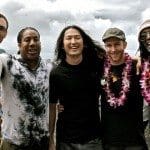 April 2, 2014 - 12:00 am
Daniel Pak of Kore Ionz will talk from Hawaii with Reggae Party Host, Rankin' Mark.
Originally from Hawaii, Daniel is lead singer and guitarist for Seattle reggae group Kore Ionz, whose third release "Feels Good" will follow their two strong albums "World War Free" (2011) & "Half-Hour Revolution" (2008).
Kore Ionz sound is expansive, with currents of rock, pop, & R&B throughout, and that certain, special, Hawaiian-reggae feel.