Music of the Moment: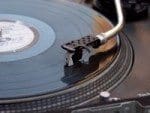 May 3, 2014 - 8:00 am
5 brand new releases we can't wait to share with you this month:
1. Jenny Scheinman The Littlest Prisoner (Sony Masterworks) – Jenny is a "Jill" of all musical trades—violinist, composer, band-leader, and a fantastic songwriter. Jenny regularly collaborates with big names like Bill Frisell, Norah Jones and Sean Lennon. Except for the 3 instrumentals pieces, Jenny's songs allow lots of space for contemplation between the notes. The music will make you sway and her lyrics will catch your imagination.
2. Willie Watson Folk Singer (Acony) – Former member of the old-time band, Old Crow Medicine Show, steps out with his first solo, produced by David Rawlings and Gillian Welch. The music recalls the shouts and hollers, in the best possible way, of Ola Belle Reed, Bascom Lamar Lunsford and Leadbelly.
3. Brigitte DeMeyer Savannah Road (independent) – One of the best Americana releases at KBCS right now. A bluesy, country, folky recording that captures her wonderful, soulful, sultry sound. This is a perfect release for Seattle summer nights.
4. Ben & Ellen Harper Childhood Home (Prestige Folklore/Concord) – The well-known solo artist surprises with a lovely acoustic collaboration with his musician mother, herself a talented artist. They each penned originals pieces for the album.
5. Flaco Jiménez & Max Baca Flaco & Max: Legends & Legacies (Smithsonian Folkways) – Two legends of traditional conjunto music, each carrying on their family traditions and establishing a bright future for this roots music. Let the dancing begin!
Last month's top 3 releases:
1.  The Holmes Brothers Brotherhood (Alligator) – A terrific funky recording from these gospel and R&B mainstays with some choice covers as well as originals pieces.
2.  Thievery Corporation Saudade (ESL) – 7th album from this DC duo. Incorporating downtempo, Brazilian grooves, it evokes the ghosts of bossa nova, warm sunshine and gentle breezes.
3.  Natalia M. King SoulBLAZZ (Jazz Village) – This description of her new album says it best: "Her songs blend the spirituality of soul, the intensity of the blues, the aestheticism of jazz and the energy of her rock roots. So don't be surprised should your ears detect the spirits of Nina Simone, Thelonious Monk and Janis Joplin."