World Cup fever around Puget Sound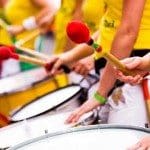 June 3, 2014 - 11:50 am
The 2014 FIFA World Cup runs June 12th through July 13th.
Check our listing of where to watch World Cup games in the Seattle area. Play in our World Cup bracket challenge league. Learn about Brazilian culture.
Occurring once every four years, the soccer tournament features 32 national teams, all champions of their continental qualifying competitions. Brazil is the host nation this year.
Two Seattle Sounders are representing the United States: The team captain Clint Dempsey and the young defender from Federal Way, DeAndre Yedlin.
World Cup preparations are often dogged by controversy. The 2014 edition may prove to be among the most polemic of them all. Tune in to Music + Ideas throughout the tournament for unique perspectives on the political, economic, and social forces currently in play.
Join the KBCS World Cup bracket league and put your predictive powers to the test. After you sign up, search for the league ""Public Radio Champions."
For your soundtrack to the World Cup, stream the KBCS Brazilian music program Raizes on demand, or tune in live Saturdays at 2pm.
Where to watch the World Cup in the Seattle area:
Bainbridge
Treehouse Café
Bellevue
520 Bar & Grill
John Howie Steak House
Seastar
Federal Way
SEA Pi: Woodfire Pizza and BBQ
Kirkland
Sluggers
Wilde Rover Irish Pub & Restaurant
Mercer Island
The Islander
North Bend
Mt Si Pub
Renton
The Berliner Pub
Redmond
JJ Mahoneys
Remond's Bar & Grill
Seattle
Atlantic Crossing (Roosevelt)
The Dray (Phinney Ridge)
Fado Irish Pub (Pioneer Square)
Fuel (Pioneer Square)
George & Dragon Pub (Fremont)
Kells Irish Restaurant & Pub (Pike-Market)
Market Arms (Ballard)
Rookies Sports Bar and Grill (Columbia City)
St Andrew's Bar & Grill (Green Lake)
Seastar (South Lake Union)
Shultzy's (University District)
SPORT (Lower Queen Anne)
Rheinhaus (Capitol Hill)
Tacoma
Doyle's Public House
The Office Bar & Grill On Pacific
Tukwila
ACME Bowling
Woodinville
Rooney's Food and Spirits
We recommend calling ahead to confirm hours, capacity, and availability. Use this form if you would like to suggest adding another venue.