Music of the Moment: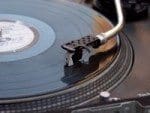 June 27, 2014 - 3:21 pm
5 brand new releases we can't wait to share with you this month:
1. Eden Brent  Jigsaw Heart  (Yellow Dog) – It's taken a bit of time, but Eden is finally receiving the recognition she deserves with her 4th release.  The music on this disc incorporates blues, jazz, soul and gospel, but it's her voice that captures your ears.  Soulful with power, Eden's vocal prowess is second to none whether she's singing a slow ballad, or backing her boogie-woogie blues piano playing.  A really terrific recording.
2. Various Artists  Playing For Change 3: Songs Around the World  (independent) – Started in 2007, this is the newest chapter in their ambition to "connect the world through music".  The best thing about these compilations is the camaraderie between artists.  They all sound like they are having the best time of their life.
3.  Melaza  self-titled  (Chulo) – Long, warm summer days just call for hot, dance music.  Melaza is a 14 piece salsa band from New York City that are play traditional salsa music with a good dash of NY soul.  Fun stuff!
4. Balsam Range  Five  (Mountain Home) – This bluegrass band derived their name from where the Smokies meet the Blue Ridge in Haywood County, NC.  This is their fifth album, and they completely nail old school bluegrass without treading into the predictable.  Terrific material, soulful harmony singing and they play the hell out of their instruments.
5. Willie Nelson  Band of Brothers  (Sony) – Willie has made a lot of albums. 7 in the last 5 years.  It's been a little while though, since he penned a new song he wanted to put on a new record.  Fortunately, that drought is over.  On Band of Brothers, Willie shares writing credits on nine of the fourteen tracks with Buddy Cannon.  This is a terrific example of what Willie does best. Country to its core.
Last Month's top 3 releases:
1. Zoe Muth  World of Strangers  (Signature Sounds) – Always a favorite with the KBCS DJs, Zoe's first Austin record finds her stretching out her music to more Americana corners with the help of producer George Reiff.  This album is drier and dustier than her first 2 Seattle made records, but the characters in her songs are familiar, and her voice remains as captivating as ever.
2.  tUnE-yArDs  Nikki Nack  (4AD) – Merrill Garbus' music is often a fav of music critics, and for good reason, she makes pop music that is never predictable.  This 3rd release doesn't disappoint as she brings more African and Caribbean- inspired sounds to the fore. Music for those who like to be as far away from "traditional sound" as one can possibly get and remain on the planet.
3. Dave Alvin and Phil Alvin  Common Ground: Dave Alvin & Phil Alvin Play and Sing the Songs of Big Bill Broonzy  (Yep Roc) – 29 years after their last full record together, the Alvin Brothers, spurred on by Phil's recent near death experience, are back with a terrific tribute to the one thing they have always agreed on, the great music of blues legend Big Bill Broonzy.