Power Outages in Bellevue Affecting KBCS
July 24, 2014 - 2:59 pm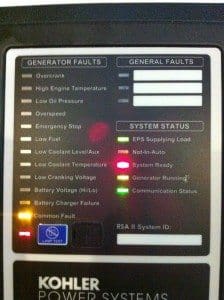 Faithful listeners to KBCS have probably noticed the recent problems with our program stream and our website.
Since Tuesday (7/22) power outages in our area have been playing havoc with our computers and other equipment.
Tuesday morning a Puget Sound Energy transformer in our neighborhood failed, knocking out power to KBCS and other houses in our area.  Our back-up generator kicked in moments after the power failed, but not before all our computers crashed, knocking our automated programming off-air and killing our internet connection.
We were able to restore some systems after several minutes, but others were more problematic.
Unfortunately, both our primary and secondary audio archive computers crashed and we were unable to get them running again until this morning (Thursday). Regrettably, this means our streaming audio archives from Tuesday until this morning are irrevocably lost.
On the bright side, I've been able to manually replace the audio archives of our syndicated programs (Democracy Now, Thom Hartmann Program, and Hardknock Radio) with audio from the program producers. We also have some of the audio from our daytime programming (The Caravan and Music+Ideas), since we use a third computer to record those shows for rebroadcast.
However, since around 1:30pm today, power in our entire area (from Lake Hills Connector to Eastgate) is again out and we are again running from back-up generators (that's the picture of the generator control panel, btw.) Once again, the outage crashed a number of our computers and we've been working to restore things as quickly as possible.
We understand how frustrating it is to miss the programs you count on, and for that we apologize. We'll continue to do our best to resolve the problems we have control over, and hope for the best for problems beyond our power to resolve.
Thanks for your patience and for your support of KBCS.
Bruce Wirth,
KBCS Program and Operations Director.