Decibel Festival picks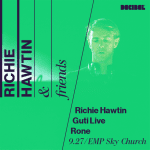 September 23, 2014 - 3:15 pm
91.3 KBCS is proud to sponsor the 11th annual Decibel Festival of electronic music, visual art and media.  There is so much to chose from. If you can only attend a showcase or two, here are some KBCS DJ recommendations:
Atleee Treasure (City Soul)
Soul clap
Kaytranada
Falty DL
Ash Odedra (Waveform Transmission)
Richie Hawtin
Andy Stott
Kode 9
Spektra (Sonic Traveler)
Max Cooper
Natasha Kmeto
Luke Mandala
Gregory D'Elia (Variations)
J-Justice (City Soul)
Falty DL
Kaytranada
Kode 9
See the whole Decibel Festival performance schedule here.
Workshop and panel event schedule here.