Music of the Moment For October 2014: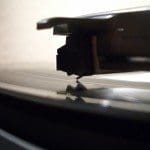 October 4, 2014 - 8:00 am
5 brand new releases we can't wait to share with you this month:
1. Jungle Fire  Tropicoso  (Nacional) – If you are a fan of Afrobeat and Latin music, this album is for you.  Jungle Fire is an Afro-Latin funk band out of LA, and their music is so lively, it may set your speakers on fire while you dance away your end-of-summer blues.
2. My Brightest Diamond  This Is My Hand  (Asthmatic Kitty) – Detroit's Shara Worden makes interesting pop music. Although you may not find a chorus on repeat in your head, her songwriting is powerful, deep and multi-layered. As you sit with this album, it unfolds with the beauty of a novel.
3. Béla Fleck & Abigail Washburn  Béla Fleck & Abigail Washburn  (Rounder) – Married since '09, it was only a matter of time before these two made a recording together, and this CD is just that- the two of them playing seven different banjos tuned to different registers.  I love this record.  It is beautiful, complex and full of surprises.  Their love of music shines through like they have a full band backing them.  One would never guess it was just several banjos.
4. Captain Planet Esperanto Slang (Bastard Jazz) – This is the 2nd album from this globe- trotting beat maker.  Combing beats with a Latin, Brazilian and other world rhythms makes this album perfect for those soon to be present gray days.
5. Doug Seegers  [going down to the river]  (Rounder) – At 62, Doug has been a rambler for most of his life; making a living by busking on street corners in Austin, and most recently Nashville, which means it hasn't been an easy one.  His future started to get brighter after being discovered by a Swedish country music star at a Nashville food pantry.  Doug's heartfelt music is honest, pure and flat out wonderful.  This is a must-hear record for anyone who likes traditional country music.
Last Month's top 3 releases:
1. various  Take Me To The River Soundtrack (Stax/Concord) –  This soundtrack is a fun mash-up of Stax Records legends and Memphis artists young and old celebrating their home town.
2. Frazey Ford  Indian Ocean  (Nettwerk) –  Frazey's 2nd solo recording was made w/ Al Green's former band The Hi Rhythm Section which gives even the ballads a deep, soulful groove.  Paired with her unique voice, this music is anything but ordinary.
3. Mike Farris  Shine For All The People  (Compass) – Mike's energetic, soul-gospel blended music is heavy in the message, but you can dance your ass off to it, too.