A Christmas Carol of the Third Kind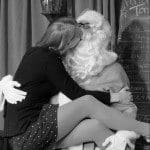 December 10, 2014 - 9:44 am
91.3 KBCS and Bushwick Book Club present an evening of original music and irreverent activity inspired by Charles Dickens' A Christmas Carol.
Seattle songwriters, supported by literary Cascadian rock band, Read & Destroy, offer their musical take on a beloved Christmas classic. Between sets, join in on reindeer games and moments of reflection.
"5 Humbugs!" – Scrooge
"Been there, done that." – Ghost of Christmas Future
"Looking forward to this one." – Ghost of Christmas Past
December 18th, 8pm
West of Lenin theatre
203 N 36th St, Seattle, WA 98103
$15
Learn more.