Minimum wage hike could draw more legislative support this year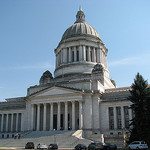 January 27, 2015 - 10:05 am
By John Stang
Several supporters of an increase in Washington's minimum wage made a show of playing "bingo" Monday during a House Labor Committee hearing on the proposal. They marked off a box whenever a business lobbyist uttered a specific phrase or argument — such as Idaho's $7.25-an-hour minimum wage or passing costs to customers — to oppose the concept.
One opponent played along, finishing his testimony by saying, "I want you to note that I haven't said, 'Obamacare.'" "Bingo," shouted a minimum wage proponent at the Olympia hearing, whose attendees overflowed into another room.
The labor committee is scheduled to vote Thursday on whether to recommend that the House pass a bill by Rep. Jessyn Farrell, D-Seattle, to increase Washington's minimum wage over four years from the current $9.47 an hour to $12 an hour in 2019.
The committee will also vote on a bill by Rep. Laurie Jinkins, D-Tacoma, to require businesses with more than four employees to provide sick leave for their workers. Under her bill, which was also part of Monday's hearing, the amount of required sick leave would vary by the size of the company.
The bulk of the people at the hearing appeared to support increasing the minimum wage and mandatory sick leave. But the opponents represented organizations with huge memberships.
Supporters talked about workers unable to live on a minimum wage when a single emergency can put someone deeply in debt. "People can't make ends meet at $9.47," said Long Beach hotel and restaurant owner Tiffany Turner. "These people are making less than $400 a week," said small business owner Don Orange of Vancouver.
Sarajane Siegfriedt, representing the King County Democratic Party, said that when the federal government set up a minimum wage in the 1930s, "the concept of the minimum wage was a wage you can live on."
"Nowadays, that living wage is about double the minimum wage," she added. Supporters also suggested that increasing the minimum wage will circulate more money through the economy to businesses.
While supporters argued that raising the minimum wage would add only a few percentage points to the costs for a business, opponents contended the proposed increase could raise costs by up to 30 percent. And the corresponding costs could be passed along to consumers.
"When some say increasing the minimum wage will have little impact on businesses, that's not true," said Robert Battles of the Association of Washington Business.
"A living wage and minimum wage are not the same thing, and were never intended to be," said Pullman business owner Joreca Brinkman. She said her restaurant operates with less than a 5 percent profit margin and increasing the minimum wage would erase that.
So far, Republican leaders have opposed both the wage-hike and the mandatory sick leave proposal. However there have been rumblings in the past two weeks that the Republicans and business interests might favor having a new minimum wage hammered out in the Legislature rather than risk facing a less-nuanced minimum-wage initiative in 2016.
Bruce Beckett of the Washington Restaurant Association told the House committee, "We're not excited about the blunt instrument of a ballot initiative."
House Labor Committee chair Rep. Mike Sells, D-Everett, said he believes Farrell's minimum wage bill has enough votes to pass the House this year, although he was less sure about the House prospects for mandatory sick leave.
Last year, Farrell introduced a similar minimum wage bill that never made it to a full floor vote, because the preliminary head count vote showed the bill falling a few votes short of the needed 50 to pass. Her new bill extended the phase-in period from three years to four years to give small businesses more time to prepare for the increases. In the Senate, the minimum wage increase has already picked up two Republican supporters, potentially a factor in the bill's favor in the GOP-controlled body.
But there could still be plenty of drama – and political games – ahead for both bills.
Distributed by Crosscut Public Media
Click here for more 2015 Olympia coverage.