House Democrats ready to offer a state budget plan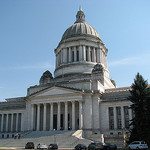 March 25, 2015 - 1:37 pm
By John Stang
The Washington House Democrats plan to unveil their 2015-2017 operating budget proposal on Friday, which will start to point to how this legislative session will really go.
A few days later, the Senate Republicans will announce their 2015-2017 budget proposal.
Both sides then will finally have concrete proposals to debate. So far, no one has had specific taxing and spending proposals to chew over. Both sides have been tight-lipped during the session about possible budget specifics.
The 2013-2015 state operating budget is roughly $34 billion. All that is known now is that the Republican-controlled Senate wants a $37 billion biennial operating budget with no new taxes. If the GOP sticks with $750 million to reduce class sizes in Grades K-3 — the main figure it has publicly discussed so far — that could push compliance with the Supreme Court's McCleary ruling on adequate school funding further behind schedule.
Another Senate GOP budget question is where it will find another extra $240 million to fund its plan to reduce state college tuition — without raising taxes. Health, social services and corrections make up the bulk of the areas where cuts might be most likely to be suggested.
The Democratic-controlled House budget proposal is expected to be noticeably bigger than the Senate's target of $37 billion. And the House budget proposal is likely to include new taxes and possibly tax-break closures. A new capital gains tax and a new carbon-emissions tax have been extensively discussed, although Democratic leaders have not confirmed whether these will actually be in the House budget proposal. Democratic leaders have consistently mentioned $1.3 billion as the minimum they believe is needed to comply in 2015-2017 with the 2012 Supreme Court ruling on schools.
Both sides have been mum about whether they will try to fund the voter-mandated Initiative 1351, which orders major reductions in student-teacher ratios in Grades 4-12. That price tag would be roughly $2 billion in 2015-2017. So far, no one in a leadership position on either side has mentioned any way of meeting that obligation. Speculation has run rampant in Olympia that the Legislature might try to find a way to dodge at least most of that obligation.
Another unknown is whether the House Democrats' budget will include an extra $583 million to cover pay raises negotiated for state employees by the Inslee administration. Senate Republicans appear to lean against funding those negotiated pay raises.
Even with the budget proposals about to be released, it's unclear how quickly the Legislature move ahead. At a Tuesday press session of Republican legislative leaders, Senate Majority Leader Mark Schoesler, R-Ritzville, declared that his caucus will not take the House Democrats' Friday's budget proposal seriously if it does not include specific bills to raise the extra money. Rep. Ross Hunter, D-Medina and the House's chief budget writer, has downplayed the GOP's call for introducing full-fledged tax bills at the same time as the proposed budget is announced. Hunter said several days ago that the Democratic budget proposal will identify funding sources for the extra revenue needed to pass it. But he added that the actual tax bills could easily be held off until later.
The Legislature is supposed to complete work on the budget by April 26.
Distributed by Crosscut Public Media
Click here for more 2015 Olympia coverage.
"Enjoy this story? Tell us more about what you like on KBCS by taking our 2015 listener survey."