Music of the Moment for April 2015: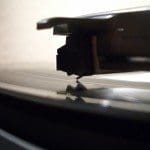 April 1, 2015 - 6:00 am
5 brand new releases we can't wait to share with you this month:
1. Andrew Combs  All These Dreams  (Coin) – Do people make records like this anymore?!  On one hand a throwback to classic 70s pop era singer-songwriters, yet still sounds relevant and fresh.  Andrew has a terrific voice and the record has a nice understated beauty to it. [Review by Iaan Hughes]
2. José González  Vestiges & Claws  (Imperial) – José's first album in 7 years finds him recording these slow-burning compositions at his home in Sweden. Perfect for those mornings when you need to ease into your hectic day.
3. Pharis & Jason Romero  A Wanderer I'll Stay  (Lula) – This British Columbia couple has been earning wider recognition in the U.S.  Not an easy feat for artists who perform old-time folk music.  This recording clearly displays why. Good songwriting, beautiful harmonies, great guitar and claw-hammer banjo make this a wonderful addition to the folk genre.
4. Sufjan Stevens  Carrie & Lowell  (Asmathic Kitty) – Beautiful, orchestral neo-folk a la Elliot Smith. His first album in 5 years, following the death of his mother, is a moving, understated meditation on loss.
5. The Mighty Mocambos  Showdown  (Légère) – This is the third release for this European funk outfit who use afrobeat horns and a solid groove to get you dancing!  They keep the groove traditional, yet contemporary. This band is tight!
Last Month's Top 3 Releases:
1. Rhiannon Giddens  Tomorrow Is My Turn  (Nonesuch)
2. Pops Staples  Don't Lose This  (Anti)
3. Brandi Carlile  The Firewatcher's Daughter  (ATO)
"Enjoy this story? Tell us more about what you like on KBCS by taking our 2015 listener survey."