Music of the Moment for July 2015: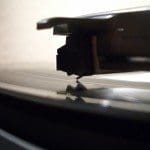 June 30, 2015 - 3:23 pm
5 brand new releases we can't wait to share with you this month:
1. Dustbowl Revival  With A Lampshade On  (Signature Sounds) – This California band could be described as an American roots hootenanny with an added soulful groove.! The music is a little Dixieland Jazz, Soul and Old-Time Folk. So much fun to listen to that you may even put on a lampshade too.
2. Chico Trujillo  Reina de Todas las Fiestas / The Queen of All Parties  (Barbés) – Colombian based band that recorded this album in Colombia, Mexico, Argentina, Chile and the U.S. They wanted to create a pan-Latin American sound that is still based in the cumbia dance genre, but also incorporates other aspects of the continent's varied musical culture. From the sounds of it, they were successful in their endeavor.
3. The Deslonde's  The Deslonde's  (New West) – New Orleans-based band that captures the classic sound from the old southern Country-Blues recordings. Imagine the rootsy sound of the classic 60's group, The Band, transplanted to a honky tonk. If you can stay still while listening to 'Less Honkin' More Tonkin' then your ears may be broke.
4. Melody Gardot  Currency of Man  (Verve) – Melody has taken her music in a new direction on her 4th studio release. Incorporating 70s era soul, funk, gospel and pop, her new sound also has a west coast sheen created by producer Larry Klein. The music matches perfectly with her less personal and more socially conscious lyrics.
5. Tellico  Relics and Roses  (independent) – If you were a fan of the Ashville based band Delia Low, then you will like Tellico too as this is their new incarnation. The music mixes old time folk music with country and bluegrass. However you define their music, it's pretty darn tasty throughout the disc.
Last Month's Top 3 Releases:
1. Eilen Jewell  Sundown Over Ghost Town  (Signature Sounds)
2. Emmy Lou Harris & Rodney Crowell The Traveling Kind (Nonesuch)
3. Laura Marling  Short Movie  (Ribbon)