Music of the Moment for August 2015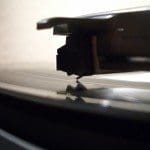 July 31, 2015 - 1:00 pm
5 new releases every music fan should check out:
1. Joan Shelley  Over and Even  (No Quarter) – I like Catherine Irwin's description of Joan's voice "she lands on a note like a laser beam on a diamond. Colors fly around the room, and her voice bends between them." This Kentucky native creates timeless folk music that is so beautiful, it'll stop you in your tracks, just so you can completely enjoy the essence of its beauty.
2. Watkins Family Hour Watkins Family Hour  (independent) – 13 years ago Sean & Sara started a monthly residency at an LA music club. Various artists would drop in and play with them and over the years such luminaries as Greg Leisz, Don Heffington, Benmont Tench and Sabastian Steinberg became an integral part of the "family". This album captures their pure joy of creating music together. The songs are mostly in the Country/Americana vein but aren't completely polished up to perfection, so you can still hear the dust on the record.
3. Shelby Lynne I Can't Imagine (Rounder) – Her 13th album finds Shelby continuing to merge her musical influences –  Southern Soul, Crescent City R&B and California Country – all brought together by her pop sensibility. Well written songs, exquisitely sung and produced, there is much to appreciate on this release.
4. Bumper Jacksons Too Big World  (independent) – If you like your stew with a little bit of everything, then be sure to check out this Washington DC based band's 2nd release. Combining elements of early jazz, country, blues and swing, the Bumper Jacksons continue to cook up a compelling mix in their musical stew.
5. Amy Helm  Didn't It Rain (eOne) – In her mid-40s, Amy is finally releasing her debut solo album. She has always made soulful Americana music first in her dad's band, The Midnight Ramblers and then with Ollabelle. On this disc Amy has finally found her own voice, and a powerful one it is indeed. This much anticipated album does not disappoint.
Last Month's Top 3 Releases:
1. The Honeycutters  Me Oh My  (independent)
2. Jason Isbell  Something More Than Free  (Southeastern)
3. Melody Gardot  Currency of Man  (Verve)