Women at Work – Anne Marie Slaughter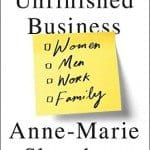 October 19, 2015 - 9:28 am
Anne Marie Slaughter is the author of a recent book, "Unfinished Business: Women Men Work Family" and the celebrated article "Why Women Can't Have it All" in the magazine The Atlantic Monthly. Slaughter has been Director of Policy Planning for the US Dept. of State and Professor at Princeton University's Public and International Affairs School and at Harvard Law School. She spoke at Seattle's Town Hall.
Day 1
The Feminist Movement was successful in its campaigns for many reforms, but there's still a lot work to do.  Slaughter describes the current landscape of women in the workplace next.
Day 2
Anne Marie Slaughter has spent decades processing and writing about gender equality in the workplace.  Slaughter shares the complexities of balancing a career and caring for loved ones next.
Day 3
Anne Marie Slaughter says  we need to close the loop on the work of the women's movement.  Slaughter explains how we  still perpetuate expectations  of gender and work
Day 4
57% of women work.  70% of the women working have children.  And the average wage gap between women and men is over 20%.  Anne Marie Slaughter breaks down that gender inequality in the workplace is not a woman's problem.  She explains what the problem is, next
Day 5
We've been looking at the challenges of women in the workplace this week.  Anne Marie Slaughter shares what needs to happen in order to successfully incorporate the needs of families and workplaces into our lifestyles.