Win Aurelio Martinez tickets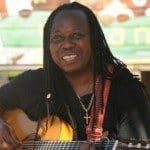 January 20, 2016 - 3:42 pm
Win a pair of tickets to see singer-songwriter, guitarist and percussionist, Aurelio Martinez, at Jazz Alley, February 2nd, 7:30pm.
Aurelio is one of Central America's most gifted performers, and a powerful voice for Garifuna culture.
To enter, send an email to contest@kbcs.fm. Put "Aurelio" in the subject line. Include your first and last name and phone number in the body of the email.
Deadline: 1/29/2016, noon.