Celebrating Black Love Through the Eyes of Art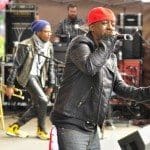 February 26, 2016 - 7:00 am
One of Seattle's biggest Black History Month celebrations happens at EMP Museum called, "Through the Eyes of Art". The creator of the annual event, Seattle rapper, Draze, stopped by the KBCS studios with more details about this year's theme of Black Love. It includes an exhibit featuring local black artists, a relationship panel and the presentation of Servant of the People awards honoring Gregg Alex  and wife Dora Krasucki-Alex of the Matt Talbot Center and gospel singer, Rev. Patrinell "Pat" Wright.
Listen to our interview below.
Check out the video of "Seattle Sweeties" by Draze.  Download the "Seattle Sweeties" song for free, here.