Dorian Wants Transit Policy Towards Disabled Persons to Change, Part 2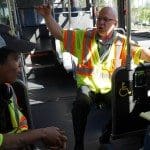 April 28, 2016 - 7:00 am
We introduced you to Dorian Taylor, a wheelchair user and regular bus-rider who's experienced challenges with nearly every single ride. Dorian wants to change transit policy to better address the needs of the wheelchair user community.

After their story aired, King County Metro contacted Dorian to hold a meeting with their ADA Compliance Officer. The What's the Flux? team was there to record the meeting.
Click here for more What's the Flux?: Commuter Dispatch stories.