I-27: The Safe Injection Site Ban, and the Initiative's Counter-lawsuit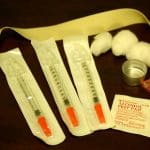 September 21, 2017 - 12:22 pm
Faced with a growing opioid epidemic, King County and the City of Seattle have approved two safe injection sites in King County. The Seattle Mayor approved one to be located in Seattle. The location for another is still under discussion. A safe consumption site in our region would be the first in this country. Meanwhile, Speak Out Seattle, a group opposed to safe injection sites, has gathered enough signatures for an initiative banning the proposed sites in King County.
In response to Initiative 27, Protect Public Health has filed a lawsuit seeking to block a public vote on Initiative 27, banning safe injection sites. The lawsuit argues local public-health policy cannot be subject to a veto by citizen initiatives, stating that under state law such decisions are left to local authorities, including the Metropolitan King County Council and the county Board of Health. The lawsuit adds that "voters are in no position to weigh the scientific evidence or understand the impact of vetoing part of a multi-prong response to a local public health crisis."
Part 1 – Neighborhood Safety Alliance member, Jennifer Asplund opposes safe injection facilities and shared her take with KBCS's Yuko Kodama.
Part 2 – Dr. Bob Wood of Protect Public Health, is the Former Director of Seattle and King County Public Health's HIV AIDS Control Program.  He worked extensively with drug injectors and shares his take with KBCS's Yuko Kodama.
"Needle Exchange" by Todd Huffman is licensed under CC BY BY 2.0