Music of the Moment – November 2017
November 3, 2017 - 9:48 am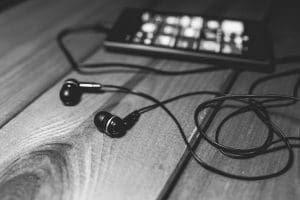 As colder weather sets in across the Northwest, check out these albums to warm up your winter playlist.
Robert Plant – Carry Fire – Nonesuch
Wailin' Jenny's – Fifteen – Red House
Las Cafeteras – Tastes Like L.A. – Self
Curtis Harding – Face Your Fear – Anti
Charlie Parr – Dog – Red House
Robert Plant – Carry Fire – Nonesuch
Zep fans will smile at the title of Carry Fire's first track: "The May Queen." But, and this could be considered heretical, Plants voice, weathered and worn, at age 69 might just be better than his 23 year old self belting out "Stairway to Heaven." There. It's been said. The album is reflective, which is not to be confused with nostalgic. It is fully pondering the here and now. Even the cover of Ersel Hickey's sweet teen-a-billy classic is deconstructed down to its muscle and bone. Lyrically the song remains hopeful that love will return, but musically the promise of reunion is far from assured. What is certain during these times? Not even the guarantee of good art. Be sure to grab hold of it when it's found, it may be awhile before it comes this way again.
Wailin' Jenny's – Fifteen – Red House
For their first album in six years the acclaimed Canadian trio has chosen nine favorites to celebrate fifteen years of making music together and have laid claim to the title of exquisite interpreters. Highlights include Emmylou Harris's "Boulder to Birmingham," Dolly Parton's "Light of a Clear Blue Morning," and the haunting and beautiful cover of Warren Zevon's "Keep Me in Your Heart." And what can even be said about their timely cover of Tom Petty's "Wildflowers," except that he could have written it with the premonition that someday three talented women would sing it as a stunning and unexpected tribute to the beloved pop star.
Las Cafeteras – Tastes Like L.A. – Self
There's something wonderful about segueing from an ode to an ice cream street vendor in the song "Paletero" to a Ranchera-inflected rave up of Woody Guthrie's "This Land is Your Land." The latest album from this seminal Mexican-American band out of East L.A. mixes politics with love and life, because surely they can't be separated. They cheerfully cross between Spanish and English – which comes off as a bit cheeky in the best possible way – but also accentuates our connectivity and bond as something to be embraced, rather than shunned. The music, played on mostly traditional San Jarocho instruments, is an infectious and superb mix of cumbia, folk, and hip-hop with a rock'n'roll heart. Simply brilliant.
Curtis Harding – Face Your Fear – Anti
Curtis is one of those guys that's talked about as a throwback soul singer, and he is, but that's just a jumping off point. His best stuff doesn't grow from the seeds planted by Sam Cooke and Smokey Robinson, but rather the psychedelic soul of Shuggie Otis and Love or even the more obscure Pieces of Peace. Face Your Fear is a superb follow-up to his 2014 debut Soul Power. It's not as blistering as that album, but more cohesive and the restraint only adds to the tension on the best songs. It may not move the genre forward as much as D'Angelo's modern day classic Black Messiah, but Harding's heart is beating on his sleeve and surely yours will be, too.
Charlie Parr – Dog – Red House
One of the great tricks a fine musician can pull off is to make the old sound new again. Charlie Parr has done just that on his emotionally raw country-blues album Dog. Recorded over two days last April the ten songs that make up Charlie's fourteenth album are reminiscent of fellow Minnesotans Koerner, Ray & Glover. Many of the songs, exquisitely picked out on guitars, jawharps, and touched up with some low end electrical fuzz, could be considered topical, but that makes them sound already dated. The themes, perhaps unfortunately, are rather timeless and shift between the razor thin borders between hard times, homelessness, and depression. But what the album can finally be distilled down to is resilience. A sinewy strength pulses through these songs which is akin to drinking straight from the well. And it tastes good.