The Aftermath of the Hurricane in Puerto Rico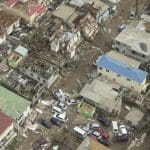 November 16, 2017 - 9:28 pm
In late September, 2017,  Hurricane Maria, a category 4 hurricane ran its course through Puerto Rico. Rey Delgado is a local resident who traveled to Puerto Rico to help family and friends after the Hurricane. In this three-part series, Rey shares some of his experiences with KBCS's Yuko Kodama.
Part 1 – Delgado describes how people in Puerto Rico navigated transportation, commerce and communications after Hurricane Maria.
Part 2 – Rey Delgado visited some rural areas of Puerto Rico 10 days after Hurricane Maria. He describes  the conditions of people in the rural and mountainous areas of Puerto Rico.
Part 3 – Delgado shares his take on Puerto Rico and the US Government's relationship.
"Aerial view of part of Roseau, the capital city of Dominica, 20 Sept 2017." by DFID is licensed under CC BY 2.0
Producer Yuko Kodama