Food Rescues to Feed Seattle's Homeless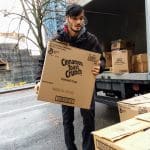 January 11, 2018 - 12:13 am
America leads the world in wasting food. It's estimated almost half of all produce in the U.S. is thrown away. "OSL – Operation Sack Lunch", a nonprofit in Seattle, is trying to combat that problem by rescuing food before it's wasted. KBCS's Casey Martin traced how leftover food from local businesses became meals for the homeless.
Producer Casey Martin
Photo by Casey Martin
0:00
91.3 KBCS music and ideas listener supported radio from Bellevue College.
0:06
America leads the world in wasting food. It's estimated almost half of all produce in the United States is thrown away. One nonprofit in Seattle is trying to combat that problem by rescuing food before it's wasted. KBCS' is Casey Martin traced how leftover food from local businesses became meals for the homeless.
0:26
7am on a Friday, Abid Choudhury is driving me across the I-90 bridge east to Bellevue. We're headed to the Microsoft campus, Google and a few other stops on the east side, hours before they open. Abid's driving a big refrigerated box truck. It's empty now, but by noon it will be filled with donated food. He does this drive three times a week for OSL, Operation Sack Lunch. The nonprofit collects unused food from restaurants and businesses, prepares it and serves it to people experiencing homelessness. Abid and four other drivers are responsible for getting all the food from the roughly 65 donors around Seattle and the east side.
1:09
For us to survive, we need to be on a time schedule, you know, and say "Okay, we'll be here for maybe 30 minutes but it had to be for an hour." My other donor, I'm going to miss that window and that doner won't wait for me, you know.
1:20
Abid has to hustle, because the food he's picking up is tonight's dinner at OSL's outdoor eating site. Chefs at five different kitchens are planning their menus based on whatever food is collected. Unlike a food bank or pantry, OSL makes ready to eat hot meals. Our first stop is Daniel's broiler in downtown Bellevue, some frozen loaves of bread and some chicken. At each pick up, Abid punches in a digital receipt for the donor, a copy also goes to his manager, so he knows immediately what's on Abid's truck.
1:52
He'll notice the report,"Hey, someone's got lettuce and he'll notify the chefs, don't buy letttuce, you know, don't spend 100 bucks right yeah, 'cause it's coming in."
1:59
After Daniel's, we go to a few cafeterias at Microsoft and Google and a retirement community. At every stop there's one person in the kitchen in charge of the food donation. Abid maintains a good relationship with each of them, they are the access to the available food.
2:15
For them, they're being vigilant, the tongue is shut so, "Don't throw that away, save it for donations."
2:19
To add with the bread and chickens, Abid picks up some fish, tomatoes, lettuce, and the prize item, a huge pack of beef.
2:27
That there is capicola beef, and they'll donate it frozen, and it's untouched so basically they made it but they didn't need it so they froze it for us.
2:36
Abid says they usually get a lot of chicken and fish and this beef will be a treat. After we've made our route through Kirkland, Bellevue, and Redmond, we cross the bridge back to Seattle. Our truck is full and Abid thinks if the other trucks are too, it will be enough to get OSL through the weekend.
2:53
On a typical Friday we pick about 8,000 to 9,000 pounds of food for the entire organization per day. So that's a lot of food that comes in and we need that food constantly.
3:01
Abid backs up his truck to the kitchen. It's located at the Compass Housing Alliance downtown. Volunteers hurry the food off the truck and into the kitchen to start cooking for lunch. One of the chefs is Ethan Foster, stirring a huge pot of sizzling onions. He tells me the beef that I saw earlier is being used for today's lunch.
3:20
It's gonna be a beef hash, it's going to be tasty for sure. Yeah.
3:23
So, it looks like you got the beef here, the onions here, what else are you gonna throw in?
3:27
We're gonna do parsnips and carrots, on top of mashed potatoes and then have a salad on the side and probably some fruit.
3:33
Foster and the other chefs throughout town have hundreds of lunches to make. All told the organization will serve about 2500 meals today. The beef hash is loaded into large containers and driven up a few blocks to OSL's outdoor eating site beneath I-5. It's right on Sixth Avenue between Columbia and Cherry, Over two dozen people are already lined up and the van pulls up.
3:56
As far as we know, it's the only one of its kind in the country, and that is a city sanctioned free meal site.
4:02
Joe Carolus manages OSL's outdoor meal site.
4:06
OSL has partnered with the City of Seattle, we are the stewards and custodians of the meal site, and we oversee every meal that goes on here, we, and there are breakfast, lunch and dinner. Seven days a week, 365 days a year.
4:20
In King County, over 11,000 people are experiencing homelessness according to last year's one night count. The county reports about 15% face food insecurity, the eating site here serves anyone who shows up no questions asked.
4:34
Many of our clients here actually have housing, they might live in a low income housing over here. They might be construction workers across the street, just come and eat. It's free, and it's healthy.
4:47
One of the people eating the beef hash is Jonathan Wilson. He's been homeless for the last 13 months and often stays in a shelter nearby.
4:54
I come here every morning and every afternoon, I come here to eat. I heard OSL from someone on the streets, help me get some food.
5:05
Joe Carolus says the one site will feed about 500 people today. OSL is on target to serve over 900,000 meals this year, almost all of that made from food that was rescued by people like Abid this morning. Lunch is over and he parks the now empty truck ready for Monday's early morning pickups.
5:23
We can't dictate how people use their food for sure, but what we can do is make a dent in how much food is wasted and thrown in the garbage. But it's out there, there's a lot of food that's out there.
5:35
In Seattle, I'm Casey Martin for KBCS news.