The National Census and Migrant Farmworkers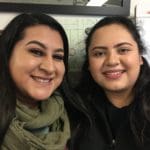 October 2, 2020 - 1:37 pm
T
he official deadline to turn in census information is now October 5th.  Find out how the census information can influence funding for services to the migrant farmworker and Latinx populations in Skagit and Whatcom Counties. KBCS's Yuko Kodama interviewed Arely Dominguez of Community to Community Development in Skagit County.
Photo: by Yuko Kodama of Lucy Lopez and Arely Dominguez, two organizers at Community Community Development
Producers: Yuko Kodama and Jesse Callahan
Yuko Kodama  00:00
91.3 KBCS music and ideas. I'm Yuko Kodama. The official deadline for census results is now October 5. The US Census has partnered with community organizations throughout the US to encourage their neighbors to participate in Skagit and watcom counties in Washington State, a Aurely Domingez has been reaching out to farm workers to tell them about the census, and to assess community needs. I caught up with Domingez earlier this year to find out how the census is important to this group. Domingez works for a community to community development, a nonprofit organization that advocates and provides for migrant farm worker communities in Washington.
Aurely Domingez  00:42
I think what the Census is a lot of schools we've gone to school board meetings, and they tell us one of the reasons why they don't hire more teachers of color is because there's not a lot of money to hire teachers. Like okay, if the school board says that there's not a lot of money to hire new teachers and retain the teachers here in the county. So by doing the Census, it will bring in more money to help the school board and hopefully they use the money wisely, and start hiring more teachers that represent our student body. Last year when we did the farmworkers survey, we did see that majority of them stayed here. But a big amount of families did migrate back down south to Oregon or California. And those students they start school here in Washington State, but when they migrate down back, they finish their school year over there. So that also affects children and families mention that. They either have to wait here longer for their kids to actually finish the school year, or they have to take their kids out earlier. But the kids get are really behind. And it's hard for the children to stay in the same routine in school. Laventure has a Migrant Student Leadership Group, but I still feel like our migrant students need more support in schools. And I know also Mt Vernon, we in recent years, just overpassed white majority of students. So now it's 60%, Latinx students, but our students are still not graduating at the same rate. So that is also not only affecting migrant students, but Latinx population in general. Especially in California, the ratio from teachers of color to students of color is more evenly than up here in Washington State, majority of the teachers up here are white. And it does not reflect the ratio of the students that are serving. So that also has an impact on the children. And I've worked before, with students in a school setting and from families telling us that there is a difference and how their kids do in school because there's no representation. A lot of teachers don't understand, like if kids are late, it's because they had to work that weekend, if they're sleeping in their classroom is because they're tired from working or they had to help home. And they don't understand that, unless you've been through that. I feel like you'll be able to be like, okay yes this this kid is tired, not because he's lazy, but because he had to work.
Yuko Kodama  03:09
So are there other kinds of things that you can share like this for health or social services?
Aurely Domingez  03:17
So another problem through the farmworker survey we've done last year and the current survey we're doing Skagit County's particularly Burlington and Mount Vernon and Sedro Wooley have a really large population of Latinx folks and Spanish speaking folks. And for the health care, we noticed that they have only one place to go for people that don't have insurance, or if they do have insurance, but it's not a really good insurance, I would say. They only have one place to go and people would rather write out their disease or illness then attend to that, because of bad treatment from like the receptionist, from doctors. I've heard stories of like people having an appointment at 11 in the morning, and they won't get seen till like 2pm it's just really bad. I feel like we need more health care centers for our community. That was Aurely Domingo as of community to community development. Speaking with me about Census community outreach in Skagit County, Washington.
Yuko Kodama  04:24
Special thanks to Jesse Callahan for help with editing. The story is possible thanks to listeners like you. You can visit KBCS.fm and click on the news tab for more stories.