Eric Hardee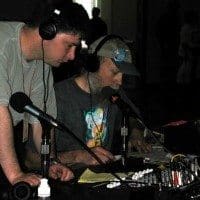 I received my first radio experience at KCAW in Sitka Alaska, in 1985. The basic broadcast class was taught by then program director Marika Partridge, who went on to direct All Things Considered. She had a profound effect on my radio sensibility.
I have been hosting Folk Music on KBCS since 1991. I hosted Tuesday – Lunch with Folks for over 7 years and have been holding down shifts on Folksounds since then. Along the way Jean Geiger joined me as a co-host helping to split up the commitment and lend her ear and expertise to the mix.
My early years at KBCS were very much influenced by several colleagues who were mentors to me in many ways. Susan Madden, Dru Druzianich, Jon Geirlich and Marianne Bundren all helped cultivate my ears to be a better programmer.
On Folksounds I feature acoustic folk music played with expertise, authenticity and spirit. I try to play a mix of music that covers a range of genres such as singer-songwriter, Old-Time, Bluegrass, Celtic, Scandanivian, Swing, Cajun, Blues and other styles. I am a big fan of fiddle-tunes and dance music so there is always something in the mix to help you move your feet in a happy way. The essential ingredient in every program is fun. I want listeners to have a smile on their face for at least part of the time and if the music touches them in some profound way, we all come away winners.