Jesse Callahan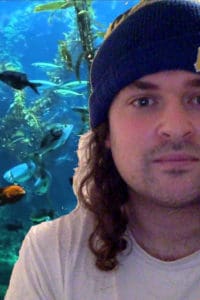 Jesse Callahan is an editor and producer for KBCS's The Grit.  Jesse started collecting records at 12 years old after inheriting his Dad's record collection. He would spend his weekend at record shops on Seattle's "The Ave"  in the University District. His love for music landed him a job as Music Director at KAOS 89.3 fm in Olympia where he also had a show called Soul Story Hour.
Although Jesse's radio adventure started with his passion for music, it has since evolved. As an avid radio and podcast listener, Jesse became inspired by radio theatre and story telling. He also has "chops" in music production and interviewing through his radio show and other endeavors. He uses a range of these skills in crafting stories that are hopefully educational, entertaining and/or emotionally engaging for listeners.  The invisibility of radio and its power to reach people easily will always inspire Jesse.
Outside of radio, Jesse loves his dog Chance and the game of baseball. He loves the outdoors and has lived and worked in the PNW for his whole life.  He also has a passion for digital art.