DJ Mega Booty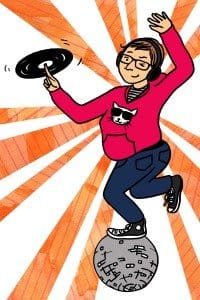 Jazz was the soundtrack of my childhood, and I started playing piano, following in the footsteps of my dad and grandfather, when I was 6.
In high school the beats and hooks of hip-hop stole my heart. Little did I know that funk was calling me back through the musical ages. I started collecting LP's and gravitated towards that midpoint between jazz and hip-hop that grabbed my ears: Funk.
My college radio show, on which my co-host and I had been playing hip-hop for the last three years, began to veer towards that genre's funky roots, until the dream of an all-funk extravaganza led me to begin my own show.
I continued to pull from all the genres that I loved, finding that you might try to restrain the funk, but it will never stay in the strict categories to which we confine our music. Which is why on "DJ Mega Booty Presents," is my home on KBCS since 2003, I strive to always take you on a unique journey through the world of funk in all its forms.
I'm constantly learning more about that world, thanks to my listeners and to regular healthy injections of used funk LP's. I look forward to Friday nights, when we get to spend a couple of hours enjoying new and favorite funky tunes together.
Additional DJ Profile and archive playlists available here: DJ Mega Booty