Yuko Kodama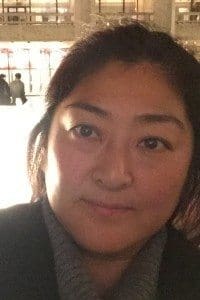 News & Public Affairs Director
yuko@kbcs.fm
425-564-5698
Yuko couldn't go to sleep at night unless she listened to radio when she was growing up in Utah. She later found herself producing weekday segments for a number of radio stations in Japan, including J-Wave Radio, FM Yokohama, and ZIP FM.
Today, Yuko has over 26 years of experience in Audio News Production and has received a Walter Cronkite School of Journalism 2017 Katherine Schneider Journalism Award for Excellence in Reporting on Disability. She was also the Producer of Listen Up! Northwest, a syndicated weekly program highlighting the work of community radio stations throughout the Pacific Northwest, and British Columbia and Alberta, Canada.
Yuko loves that radio is a medium which encourages the listener to use their imagination to participate in stories and art. She also loves the possibilities that radio has to offer in informing and connecting people. She enjoys mentoring people into audio storytelling.  Yuko's other passions are sea kayaking, cooking and lots of other outdoor hobbies (especially if they involve foraging for food).