Zoe Embler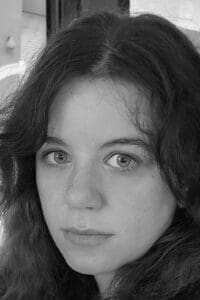 Student Intern
zoe.embler@bellevuecollege.edu
You might say public radio is in the Embler blood, once upon a time, Zoe's father Robert Embler was a host and producer for Tennessee stations WDXN 54FM and WAMB 1160AM/98.7FM. Zoe listened to local NPR affiliate station WPLN 90.3FM at least once a day throughout her childhood and still tries to tune in when she can via the magic of online streaming.
Although two of the three stations are now defunct (the Nashville WAMB station closed in the early 2000s and WDXN now broadcasts the daily weather on repeat rather than music) the family's love for public radio has never wavered and neither has Zoe's desire to be involved. Initially content to be a devoted listener she detoured into the corporate job sector after college and spent the next decade working while listening, daydreaming, and running hobby podcasts in her spare time.
However, like many did when the pandemic began to take over, she reassessed her career decisions and decided "if I want to do it, why not try it"! So, with the decision made she became a part-time BC Communications Department student and as of April 2022 a KBCS intern.
Zoe is incredibly excited to help KBCS wherever they need it and be as involved in as many things as the staff will let her, time and experience permitting! She hopes to one day be hired full-time at a local PNW public radio station to live out her childhood dream and keep the family profession alive.