Mat Maneri is one of the few prominent jazz musicians to make the viola his primary instrument. He joined Flotation Device host Michael Schell to talk about his music, including his Ash Quartet's upcoming Earshot Jazz performance at Cornish Raisbeck Auditorium on Monday, October 30 (tickets and info at Earshot.org).
Hear more of Mat Maneri's music Sunday night at 10:00 PM on Flotation Device.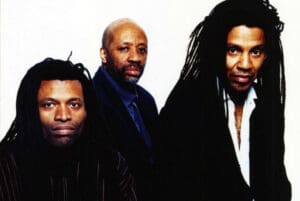 Flotation Device host Michael Schell recently interviewed Melvin Gibbs of music collective Harriet Tubman. Harriet Tubman performs Friday, October 27 at the Langston Hughes Performing Arts Institute during this years Earshot Jazz Festival!
"Founded in 1998, the New York-based power trio Harriet Tubman embraces freedom as its governing principle, as evinced by its name and its seamless interweaving of soul, rock, jazz and avant-garde elements. Bassist Melvin Gibbs joined Flotation Device host Michael Schell to talk about the band's upcoming Earshot Jazz performance at Langston Hughes Performing Arts Institute on Friday, October 27 (tickets and info at Earshot.org)."
Recovered Voices and Radical Music
by Michael Schell
December is the season when a DJ's fancy lightly turns to thoughts of…the year's best albums. And when your corner of the world is as variegated as the cutting-edge creative and improvised music we feature on Flotation Device, then there's a lot to choose from! One of the most remarkable items to cross our desk this year is about to be showcased on our December 11 show: A House of Call, My Imaginary Notebook, by the German composer and recovered rock-and-roller, Heiner Goebbels.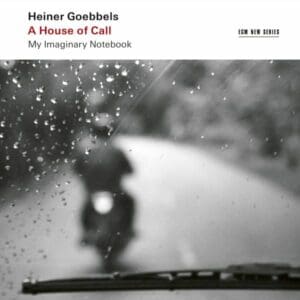 Goebbels has a penchant for juxtaposing dissimilar kinds of music. In A House of Call, voices from old archival recordings are accompanied by a live orchestra in unexpected ways. The excerpt we'll be playing uses the solo voice of a Namibian native, captured on a wax cylinder in 1931. Goebbels garnishes it with fractured big band music that suggests a Trinidad night club—which seems innocuous enough until you consider that the source recording was made at a German-owned cattle ranch in southwest Africa at the height of the colonial era.
Although Goebbels hints at his ideological stance in the title for this section, Wax and Violence, he nevertheless presents his material dispassionately. What's conveyed here, and throughout the album, is a disorienting ambivalence—perhaps a nostalgia for lost voices and myths, but also a reminder of the tenuous cohesion of human memory, and how deeper meanings often lurk beneath the surface of things. At a time when much contemporary art seems calculated to deliver political messages to already-convinced audiences, Goebbels demonstrates that music often communicates more profoundly when things are left ambiguous.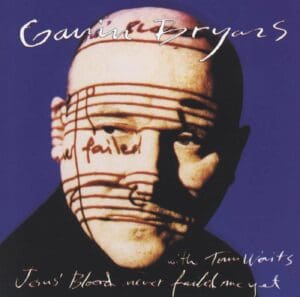 The idea of accompanying a recorded song with live musicians originated in a work by Gavin Bryars that coincidentally was premiered exactly 50 years ago this Sunday. It's called Jesus' Blood Never Failed Me Yet, named for a hymn tune sung by a homeless Londoner, a recording of which Bryars fashioned into a tape loop that plays continuously throughout the performance. And like Goebbels he deploys an orchestra to interact with the lonely voice. But there's a twist: the man sings in tune, but slightly off-rhythm. So the live musicians tend to falter a bit trying to stay in sync with him. In Bryars' treatment the man's deprivation and optimism both come through in his voice, like an old Beckett character laughing at his suffering. Nowadays the piece is considered one of the great masterworks of musical minimalism, and we'll sample it on our program via two different recordings, including one that features Tom Waits.
I can't help but admire the pluck and resilience of these beleaguered voices, refracted and amplified by contemporary musicians. They epitomize the impactful and far-reaching sounds we look for every week on Flotation Device—music below the radar of commercial broadcasters, and even most jazz and classical stations. It's the kind of programming you'll only find on KBCS, and I'm pleased to share it with you Sunday nights from 10 to Midnight!
Photo captions:
Links: