A KBCS interview with one of our region's powerful leaders, Councilmember Larry Gossett.  He served as King County Councilmember between the years of 1993 and 2019.  Councilmember Gossett was also an active Black Panther Party member and was a founding member of the University of Washington Black Student Union.  Listen to the experiences that transformed his life, and informed his approach to public service.
On today's Unmute the Commute we look at the relationship between riding public transit and the health of older adults. Produced by Michelle Wallar Martin.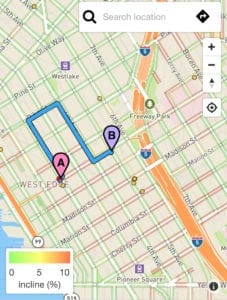 Seattle's steep hills can make traversing the city difficult for those with limited mobility. But, computer scientists at the University of Washington hope to help with a map that routes people through public elevators and lower grade streets. Today's story: The Access Map. Produced by Casey Martin and Hans Anderson.
To test out new versions of the Access Map, contact uwtcat@uw.edu.