Commemoration of the Bombing of Hiroshima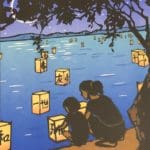 August 6, 2020 - 8:19 am
On August 6, 1945, the United States dropped an atomic bomb on Hiroshima, Japan, resulting in estimates of over 200,000 deaths within months of the event. This was the first of two of the only nuclear weapons used on civilians in the world's history.
Shirley Shimada's family is from a fishing village outside of Hiroshima. She shares her family's stories about how bewildered the Japanese people were with the impact of this new munition.
Shimada is the chair of the planning committee for the event "From Hiroshima to Hope", an event commemorating the bombing of Hiroshima. KBCS's Yuko Kodama spoke with her at Seattle's Green Lake Park.
NOTE**
People have gathered at Seattle's Green Lake Park for' From Hiroshima to Hope' events over the past 35 years to launch floating lanterns with messages of peace or to their lost loved ones. Due to the pandemic this year, Hiroshima to Hope requests participation by lighting a lantern and placing it in your window from June 6th through June 9th. Information on the lantern project is here.
Producer: Yuko Kodama
Photo: by Yuko Kodama of artwork by Yoshiko Yamamoto