Femen – Toplessness as a Form of Protest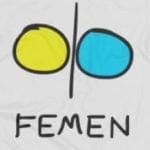 August 24, 2018 - 12:30 pm
This coming Sunday is Women's Equality Day and also, Go Topless Day. On August 26th 1920 women earned the right to vote based on Gender Equality. Today women still face gender equality issues and Go Topless Day seeks to bring awareness to inequities.  The group, Femen makes going topless, a form of protest against patriarchy. There are Femen branches throughout the world including Spain, the United States, Sweden and South Korea.
91 3's Yuko Kodama interviewed Isabelle Bertges of Femen Germany to find out more about the organization.
31 year old Oksana Shachko, one of the founding members of  Femen was found dead in her apartment in Paris in July. For more on the organization Femen, you can listen to a segment produced by Making Contact included below.