Samia Panni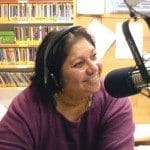 December 3, 2018 - 4:17 pm
On Sunday morning, December 2nd, beloved DJ Samia Panni passed away suddenly. Samia exemplified KBCS at its very best. All of us at the station are heartbroken, and offer our deepest condolences to her family, friends and communities.
Samia Panni lived in the Philippines, Indonesia, east Africa and Argentina before she arrived at last in Seattle at the age of 19. The daughter of a Bangladeshi diplomat, she became a musician, a student of language, an educator, and the founder of Raìzes ("roots"), a radio show devoted to the music of Brazil. Over the course of 31 years, KBCS listeners enjoyed her panoramic view of the nation's unique musical landscape, from bossa nova to MPB, and the pulse of samba, to the rural rhythms of forro and choro's urban lament–and all of it's intersections with jazz.
A memorial concert, with proceeds going to the Samia Panni Family Fund, is scheduled for January 18th. All are welcome.
"Celebrating Samia"
Featuring Jovino Santos Neto, Jeff Busch, Nilza Lessa Trio, Abráce, Makala Wengelewski-Romero, Marco de Carvalho, Kiko Freitas, En Canto, and many more.
Friday, January 18th, 7pm
Om Culture (Wallingford)
2210 N Pacific St,
Seattle, WA 98103