Sandy Macdonald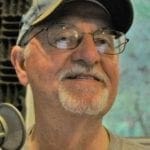 January 2, 2019 - 10:18 am
Early Tuesday morning, January 1st, much-loved KBCS family member, Sandy Macdonald, passed away unexpectedly.
Sandy grew up in Seattle an avid music fan of both folk and rock and roll. He studied Radio-TV-Film at UT-Austin, where he ran a camera on early Austin City Limits shows.  After moving to Colorado he hosted folk music and jazz shows in Grand Junction. In 1991 Sandy returned to Seattle and began hosting the Lunch with Folks show.
Professionally, Sandy worked for 18 years in King County's Office of Civil Rights and Open Government. He has been active in the Puget Sound Guitar Workshop, a concert producer for The Seattle Folklore Society, and played guitar in the wonderful band Happy Campers. Yet, he never lost the passion to make great radio. For many years now, Sandy has hosted Sunday Folks, bringing to the show an eclectic mix of traditional and contemporary folk musicians with a special emphasis on local music.
The first song Sandy played on our airwaves back in 1991 was Arlo Guthrie's version of "City of New Orleans," an artist that will surely make long-time Sandy fans smile. The last song he played was Anne & Pete Sibley's version of "Silent Night," on December 23rd. He was forever humble and gracious with his broadcasting and performing gifts and he will be deeply missed.
We will share memorial information here as it becomes available.