KBCS debuts new weekday news line-up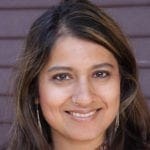 April 25, 2019 - 1:31 pm
91.3 KBCS adds the Rising Up program to its Monday-Friday line-up. Host Sonali Kohatkar connects global issues to local communities with this hour-long program, produced in Los Angeles at KPFK.
The hip-hop talk program Hard Knock Radio moves to 7am, replacing the KBCS "Blend" news hour.
"Sonali is a fresh progressive voice that we believe will resonate with KBCS listeners alongside Democracy Now, Hard Knock Radio, and The Thom Hartmann Program," says KBCS News and Public Affairs Director, Yuko Kodama.
The Thom Hartmann Program and Hard Knock Radio will continue to include KBCS' national-award-winning reportage focused on social justice issues within the Pacific Northwest.
New KBCS weekday line-up starting April 29th:
5am – Rising Up with Sonali
6am – Democracy Now!
7am – Hard Knock Radio
8am – Democracy Now!
9am – The Thom Hartmann Program
Noon – music mix (until 5am)
About Rising Up with Sonali.
Please direct any related comments, questions, or concerns to the KBCS Program Director, Patrick Whalen: patrick@kbcs.fm