Join KBCS for an Afternoon with Tiffany Midge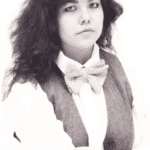 November 7, 2019 - 7:46 am
Join KBCS, the Bellevue College Office of Diversity, Equity, and Inclusion and and Belletrist, Bellevue College's literary magazine, Thursday, November 7th, at 1pm in the Gallery Space on the campus of Bellevue College for an afternoon reading by author Tiffany Midge.
For event details, directions, and to register to attend, click (here).
Native Washingtonian and enrolled member of the Standing Rock Souix Reservation, Midge will read from her latest collection, 'Bury My Heart at Chuck E. Cheese's.
This event is free of charge and open to the public. Following the reading, there will be an informal Q&A and refreshments.
About Tiffany Midge:
Tiffany Midge is a citizen of the Standing Rock Sioux tribe and was raised in the Pacific Northwest.
She is a former humor columnist for Indian Country Today and teaches multi-genre humor writing that elevates awareness of social justice issues. Her McSweeney's article "An Open Letter to White Women Concerning The Handmaid's Tale and America's Historical Amnesia" garnered a 2018 Pushcart Prize.
Midge's poetry collection, "The Woman Who Married a Bear," won the Kenyon Review Earthworks Indigenous Poetry Prize and a Western Heritage Award. Her memoir "Bury My Heart at Chuck E. Cheese's" is a powerful and humorous prose collection about family, politics, and identity as a Native woman in America. Sarah Vowell praised Midge as "a wry, astute charmer with an eye for detail and an ear for the scruffy rhythms of American lingo." Midge is the 2019 Simons Public Humanities fellow for University of Kansas Hall Center for the Humanities, and aspires to be the Distinguished Writer in Residence in the Seattle Space Needle.