Black Panther Party Women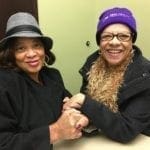 February 13, 2020 - 1:08 pm
The Black Panther Party was active in Seattle, offering protection and services for the local black community.  Services included a free breakfast program which fed hundreds of children in Seattle, and a free health clinic, today monikered as the Carolyn Downs clinic in Seattle's Central District.   The women of the Black Panther Party were a force behind the movement.  A new film,  Keepers of the Dream: Seattle Women Black Panthers offers highlights of five Seattle Black Panther Party women. KBCS caught up with two of these women, Vanetta Molson and Phyllis Noble Mobley, to hear about how the movement influenced their lives.
The film has had four screenings so far.  The next screenings are:
February 28 7:30 at the Northwest Film Forum
March 6 – Sold Out!
Producer: Yuko Kodama
Photo: Yuko Kodama