Win an Acoustic Guitar Package from KBCS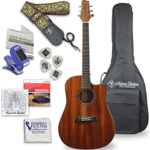 September 22, 2021 - 10:12 am
The KBCS Fall Fund Drive is in full swing. Donate now to be entered for a chance to win an acoustic guitar package. We're giving two guitars. The first guitar away at 4pm and the second at 7pm, so the sooner you get entered, the better your chances are to win! 
There's no donation required to enter into the drawing (See Drawing Rules), however, your support today will help keep the KBCS Roots, Rock, and Soul music you count on going strong and get you automatically entered in the drawing. 
Music is a vital part of our lives, especially over this past year. Your financial support keeps the music that you love on the air for everyone to hear. That's why a gift to KBCS is also a gift of music to our community. But we want to do something else, too. We need musicians and songwriters; we need fingerpickers, fretboard tappers and strummers. That's why we want to go a little bit further and give you the chance to win an Antonio Giuliani steel string acoustic guitar package. We want to inspire you to pick up a guitar and make your own music or put it in someone else's hands and encourage them to make their own music. Who knows, maybe we'll hear that song on the radio.