Sankofa Impact – Jimmie Lee Jackson and the Fight for the Right to Vote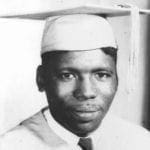 February 3, 2022 - 9:13 am
(This story originally aired in February of 2020.)
During the 1960's, Jimmie Lee Jackson tried registering to vote multiple times without success in Marion Alabama.  These experiences activated him to take up the cause for the right to vote.  His efforts, and finally his murder, led to a march which resulted in Bloody Sunday in Selma, Alabama during 1965.
Listen in on an interview with Della Simpson Maynard who was there the night Jimmy Lee Jackson was shot.   The recording is from the Civil Rights Project Pilgrimage to Selma, Alabama
Producer: Ruthie Bly
Photo: Southern Poverty Law Center
SPEAKERS
Della Simpson Maynard, Greg Delia, Yuko Kodama, Ruthie Bly, Host
Yuko Kodama  00:00
91.3 KBCS-music and ideas. Listener supported radio from Bellevue College.
Host  00:06
57 years ago this month Jimmie Lee Jackson lost his life for fighting for the right to vote.  We take a moment to honor this unsung hero in the civil rights movement. During the 1960s Jackson tried registering to vote multiple times without success in Marion, Alabama. This spurred him to become a fierce advocate for voting rights. His efforts and finally his murder, led to a march which resulted in Bloody Sunday in Selma, Alabama during March of 1965. Della Simpson Maynard is a civil rights foot soldier and resident of Marion, Alabama. She knew Jimmie Lee Jackson and his family. Simpson Maynard described what happened the night Jackson was shot.  KBCS' Ruthie Bly was there on the Civil Rights Project Pilgrimage, now referred to as Sakofa Impact  to record it.
00:49
[music]
Ruthie Bly  00:56
February 18, 1965 stands as one of the most truamatic days of Della Simpson Maynard's time during the Civil Rights Movement. This is the day that Jimmy Lee Jackson was shot. He died in the hospital eight days later, after a botched second surgery.
Della Simpson Maynard  01:15
We got assaulted in Marion at night.  You know, it was awful.  There's people that was assaulted all over Marion.  They just, just the sheer fact of being out that night as a Black person, you were a target.
Ruthie Bly  01:31
This night wasn't the first time Marion civil rights activists were assaulted and jailed while speaking out against injustice and for voting rights. What made this different, was the level of brutality waged against the peaceful marchers. What compelled the activists to march that night was the rumor that Reverend James Orange might be lynched while being held at the Perry County Jail in Marion. This was a very real danger in 1960s, Alabama. Reverend Orange was charged with disorderly conduct, inciting students to participate in voting rights drives, and contributing to the delinquency of minors. To show their support of Reverend Orange, the civil rights activists gathered at the regular meeting spot, Zion United Methodist Church and began their march. Della Simpson Maynard explains more about that night.
Della Simpson Maynard  02:25
We were going to march over and let them know that you know we supported him and that we was still there.  We were gonna march that night just to do our rally outside, which was rare.  And I think that's the reason why it turned out the way that it did because we didn't march at night.  That was unheard of!  Initially, what was supposed to happen was that Dr. King was supposed to come to town but there was a death warrant out for him already.  And so the decision was made for him not to come to Marion.  C. T. Vivian came that night and spoke to us.  And I just don't think they wanted us to assemble anywhere.  When we tried to march somehow or other they got wind of that march before we even got to the church.  When we first came out of the church, you didn't see nobody.  We didn't see no police no where.  But by the time we got, maybe about thirty feet outside of that church it seemed like they just came from everywhere. And there was not just our police, it was the surrounding counties.  You could recognize them because of their uniform.  It was surrounding counties.  Had their police there.  They had deputized some of the local citizens as well and they assaulted us. An NBC News reporter was there.  They broke his camera and knocked the light out.  His name was Richard Valeriani. They ended up sending him to a hospital in Birmingham because they beat him pretty bad.  They beat the heck outta us.  Ran us up into Max Cafe and that's when they came in there and started beating up on Mr. Cajun.  And Jimmy came in after that, trying to defend him.  And he fought them all the out the door and out the street and then about five minutes later you heard the two shots, to kill him.  But they didn't kill him then because he stayed in the hospital eight days.  They took him to Good Samaritan in Selma, and he died later on.  And that was when we decided to go to Montgomery.  As Lucy Foster said at our next mass meeting after Jimmy had died, she said, "We should take Jimmy's body to Montgomery and put in on the state capital."  And that's when they decided to do the march originally from Marion but they thought it would be a security risk because Marion has a two-lane highway from Marion to Selma.  So we would've had to march from Marion to Selma on that two-lane road. It wasn't well lit or anything like that. So once they had the next meeting they decided that no we just better have the march from Selma to Montogmery, rather than from Marion.  But that was the reason why the march started in the first place; was after the death of Jimmy Lee Jackson.
Ruthie Bly  05:15
This planned 54 mile march to protest the death of voting rights activist and deacon, Jimmy Lee Jackson, is known as Bloody Sunday. This is because within a short distance, the over 500 peaceful protesters were met by local authorities who beat the men, women, and children, sending at least 50 marchers to the hospital. This march was attempted two more times before its uninterrupted successful completion on March 25, at the Montgomery State Capitol. The televised brutality of Bloody Sunday was the final piece that led to the signing of the 1965 Voting Rights Act. For KBCS, I'm Ruthie Bly.
06:00
[music]
Greg Delia  06:06
The Civil Rights Project Pilgrimage is a nonprofit organization that offers immersive educational opportunities for participants to visit prominent civil rights sites and meet some of the foot soldiers of the Civil Rights Movement.