KBCS Turns 50!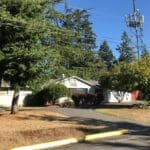 February 6, 2023 - 10:24 am
With abounding gratitude for 50 years we say thank you. 
Thank you to the Bellevue College Students who gathered, organized and rallied for a 10 watt community radio station that went on the air today in 1973. 
Thank you to KING FM who donated the first equipment to make that happen. 
Thank you to Bellevue College who have held our license for 50 years, given us a place on campus, and quietly championed us when it was far from the easiest choice to make. 
Thank you to our community volunteers, past and present, who have wildly given us your time, talent, passion and joy. You are the many that make the one.
Thank you to the student news journalists and local independent journalists for continuing the craft of informing and honoring community
Thank you to the community members who share their voices and brave stories for all of us to learn from and connect with.
Thank you to the progressive media partners who bring us the critical news and discussion on topics from around the country and the world. 
And, we thank you, our beautiful listeners who, we humbly claim, have the best ears. You have powered this community radio station far beyond what should have been possible. We celebrate 50 with you, for you, and because of you.
Happy 50th KBCS, you sweet old radio station.
We sure do like the way you sound.