2023 Spring Message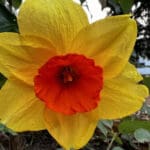 April 15, 2023 - 11:21 am
KBCS Spring Message from the General Manager
It's beginning to look and feel like springtime across the Pacific Northwest as winter reluctantly lets loose its icy grip upon the landscape. The crocus and daffodils are pushing up through the still cold, hard ground and their vibrant spring colors spread joy and optimism across the land. Spring is the most optimistic season.  
At Community Radio KBCS, springtime is the harbinger of our traditional spring fundraising campaign and thanks to the generosity of our listeners we are off to a very optimistic start to the year. This coming fall will mark my fourth year at Bellevue College serving as the stations General Manager, along with several other hats I wear. Despite the difficult challenges we have faced together over the past three and half years, KBCS is now in a financially more secure position, as we embark on the next 50 years of bringing true community radio to thousands of listeners across the greater Puget Sound and online around the world.
Since first signing on the air in 1973, KBCS has evolved to become one of the most popular and diverse local community radio stations in the country. For most of our listeners our program diversity is our greatest strength when measured against the vast wasteland of inane banality of formulaic radio cluttered across the radio dial.
KBCS is handcrafted, homegrown radio curated by a very diverse group of everyday people who live right here in our community. Each of them produce and host their own shows and share their passion for music and life here in the Pacific Northwest with their appreciative listeners.
KBCS is investing in new broadcast technology to create a modern, technologically robust digital broadcasting platform to serve our listeners with a more user friendly interface and an exciting interactive experience. KBCS is the real thing and regular donations from listeners is what keeps the station relevant and on the air.
Please support KBCS during our annual spring fundraising campaign now underway. For those who can afford to give a little more, you can help us cover the gap from those living on a tight budget during these uncertain times and just can't afford to make a donation right now.
Support KBCS with a donation today and help ensure the future of our mission of offering a broadcast voice to everyday people and not just broadcast professionals or the large corporate media conglomerates. And, don't forget to tune in April 21st-April 30th and help us celebrate our 50th anniversary during our annual on-air spring fundraising drive.
As always, thank you for your continued support and your generosity,
Dana Lee Buckingham
KBCS General Manager and Proud KBCS Sustaining Contributor