Protectors of Luma, the Western Red Cedar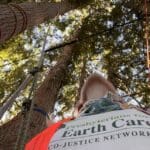 July 14, 2023 - 3:14 pm
On Friday, July 14th, a group of concerned community members rallied around a western red cedar named Luma in Seattle's Wedgewood neighborhood. They hope to preserve the tree since aggressive development activity in Seattle has led to increased loss of large trees in the city. The developer, Legacy Group Capital has a permit to take down the tree within the next 60 days.
KBCS's Martha Baskin spoke with Droplet, one of the advocates for the tree, and Yuko Kodama spoke with Sandy Shettler of
The Last 6,000
.
Martha Baskin will be working on another story on Luma next week.
Producer: Yuko Kodama, Martha Baskin
Photo: Courtesy of Droplet advocates