Activist, Linda Sarsour Speaks Against Islamophobia and White Supremacy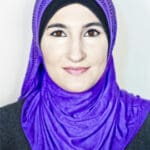 October 24, 2023 - 12:35 pm
Linda Sarsour, noted Palestinian-American civil rights leader and Executive Director of MPower Change spoke at Seattle's Rainier Arts Center  on Islamophobia and White Supremacy in January, 2023.
The event was hosted by Valley and Mountain Fellowship's Center for Faith, Art, and Justice in partnership with the United Church of Christ's Join the Movement Toward Racial Justice. The event was part of the Set Us Free from Fear: Faith, White Supremacy, and Politics series. The series invited scholars, clergy, and activists working at the intersection of race and faith to share their wisdom to our broader communities.
Sarsour was co-chair of the 2017 Women's March, the 2017 Day Without a  Woman, and the 2019 Women's March. She is also a former executive director of the Arab American Association of New York.  She is the author of We Are Not Here to Be Bystanders: A Memoir of Love and Resistance, published in March, 2020.
Producers: Valley and Mountain Fellowship, United Church in Christ's Join the Movement toward Racial Justice
Photo Linda Sarsour and Women's Media Center