Conditions in Gaza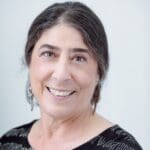 November 14, 2023 - 9:16 pm
As of yesterday, Day 36 of the Israel Palestine conflict, Jewish Voice for Peace health committee reported over 11,000 killed. (67% of this number are women and children) Over 27,000 are injured. 270 health facilities have been attacked, 60% of hospitals and 71% of primary health centers are shut down.
198 medical staff, and over 45 journalists have been killed. 1.6 million people (67% of Gazans) are internally displaced. Electricity had been out for 31 days and there is no fuel.

Local physician, author, filmmaker and activist, Dr. Alice Rothchild has been working in solidarity with Palestinian medical organizations since 2004. She's an author on healthcare in Palestine, the latest book one being Condition Critical, Life and Death in Israel/Palestine. Dr. Rothchild has more recently, written children's books set in Palestine. A young adult novel, Finding Melody Sullivan came out earlier this year, and a middle grade book, Old Enough to Know, will drop later this year.  Dr. Rothchild also directed the documentary, Voices Across the Divide, available free on vimeo. She speaks about what she's witnessed in Gaza and her journey in understanding conditions there.
Producer: Yuko Kodama
Photo: from Dr. Alice Rothchild