Hundreds gathered in Bellevue over the weekend to protest in solidarity with women in Iran.  KBCS was there and gathered voices and sounds from the event.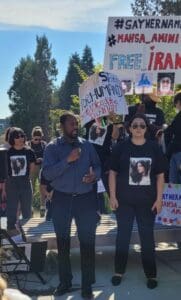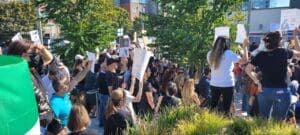 Imagine being a US Citizen and being deported to a country where you don't know anyone. This happened in the 1930's here in America.
The House Select January 6th committee completed their eighth hearing this month.  More hearings and an initial report is in the works for September, as the group continues to investigate the event. 
Nate Gowdy is a local documentary photographer whose work has graced the cover of Time magazine.  He's been photographing the Trump campaigns and rallies for years, and was at the nation's capitol on January 6th 2021.  Gowdy has a book coming out soon titled Insurrection, featuring over 120 photos from that day.  It's edited by Lisa van Dam-Bates.
KBCS interviewed Nate Gowdy and Lisa van Dam-Bates in July.
Producer: Yuko Kodama
Photos: Nate Gowdy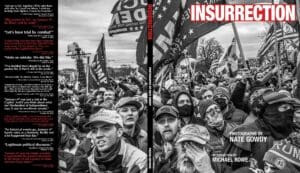 Marcy Bloom is the former Executive Director of Aradia Women's Health Center, a feminist, women's clinic which operated in Seattle from 1972 until 2007.
According to the Seattle Times
, over 70,000 abortions had been performed at Aradia Women's Health Center during its operation.
Bloom describes her work in women's health before moving to Seattle, and some of what was involved in running a clinic for women and women identified individuals.
Producer: Yuko Kodama
After much discussion, Congress passed legislation to establish Juneteenth as a national holiday. President Joe Biden signed the bill on June 17, 2021.
This KBCS audio excerpt explores important details about Juneteenth and what happened on June 19, 1865.
KBCS's Kevin Henry speaks with Kwami Abdul-Bey a Co-convener of the Arkansas Peace and Justice Memorial Movement and a Trustee of the Arkansas Historical Association.
Since 2015, local photographer, Nate Gowdy has been working on a personal project to document the Trump era's political campaigns and culture.  On January 6, 2021, he was in Washington DC to document the atmosphere around the Congressional confirmation of electoral votes for Rolling Stone.  The day was interrupted by a mob attack on the country's capitol building.  Gowdy shared his experiences with KBCS's Yuko Kodama within a week after the event.
KBCS reporter, Kevin P. Henry interviewed two, local, Black mental health counselors. They discuss how Black communities and communities of color can be emotionally impacted and traumatized in hearing about these racially motivated incidents. Find out how this may play out among friendships and co-workers, and some suggestions on how to help. (more…)
The Washington State Historical Society hosts the Smithsonian Institution Traveling Exhibit of the Negro Motorist Green Book Exhibit in partnership with the Black Historical Society of Washington State 
The Black Historical Society of Washington State and Washington State Historical Museum  hosts an Author Talk and Book Signing with Candacy Taylor, Leading Green Book Scholar and Cultural Documentarian accompanied by the African American Writers Alliance on May 19, 6-8 pm.
The interview announced an event to come at Wa Na Wari centered around the Green Book in Washington State.  You can for that on their site for information on upcoming events.
Carolyn DeFord is an enrolled Puyallup member and is from Nisqually and Cowlitz descendants. Her mother, Leona Lee Clare Kinsey has been missing for over 20 years. DeFord shares what she's come away with from this tragedy with KBCS's Yuko Kodama (more…)
MAAC or Muslimahs Against Abuse Center is an organization dedicated to assisting victims of gender based violence.  Listen in on how this group can fill in spaces for those in need in our community. 
Other leaders to assist people who are going through domestic abuse are Somali Family Safety Task Force in Seattle's Rainier Valley and Mother Africa in Kent.
If you or someone you know is experiencing domestic violence, you can call, chat and text the National Domestic Violence Hotline 800.799.SAFE (7233).
Producer: Firdous Khezrian (Special thanks to the South Seattle Emerald for inspiration for this story)
Photo: courtesy of Rahma Rashid