Sonali Kolhatkar, host and producer of Yes! Presents, Rising Up and racial justice editor at Yes! Magazine spoke with Yes! Media's Editorial Director, Sunnivie Brydum about her book, Rising Up: The Power of Narrative in Pursuing Racial Justice at  Town Hall Seattle on September 6th.
KBCS thanks Town Hall Seattle for permission to record and broadcast the event.
Jina Mahsa Amini, a Kurdish, 22 year old woman, was killed in custody of Iran's morality police on September 16th last year, sparking an uprising led by Iranian women, and supported by ethnic and minority groups.
As the anniversary of Amini's death nears, Iranian American women in Washington state share their experiences in Iran before they moved here. They also share how the Woman, Life, Freedom Uprising has affected them.
Producer: Yuko Kodama
Photo: Feminists for Jina
Events in observance of one year anniversary of Jina Mahsa Amini's death and beginning of Woman, Life Freedom uprising
Friday: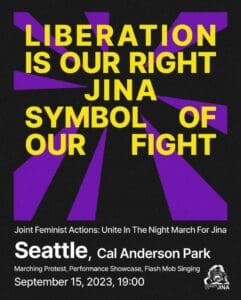 Saturday: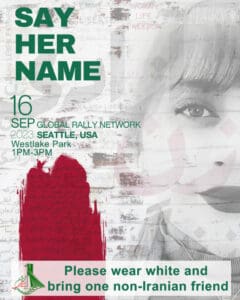 Sunday
Peyvand and NPO is co-hosting a vigil and poetry event
Sunday, September 17th
University of Washington Campus Red Square – 6:30 to 8:00 pm
Carrillo performs at the following venues during his visit to our region:
Performances by Alfredo Carrillo – international tenor, Thomas Pandolfi – Juilliard International Concert Pianist,  and , Scott Fischer – Bachelor of Piano Performance Candidate, UW
Benaroya Hall Octave 9
Saturday, September 16th at 6 pm
Meydenbauer Center
Monday September 18 and Wednesday September 20 at 7 pm
Producer: Yuko Kodama
Photo: Alfredo Carrillo
Sonali Kolhatkar is the racial justice editor at Yes! Media and the host of the weekly radio program, Rising Up. (broadcasts on KBCS Fridays at 7 am and Thursdays at 5 am)
Kolhatkar is also the author of a new book, Rising Up: The Power of Narrative in Pursuing Racial Justice.  The book describes how the media can overlook, minimize, hide and misrepresent narratives of people of color, while perpetuating negative and harmful stereotypes.  Kolhatkar highlights content creators, educators and influencers who are challenging this, and building a more inclusive and affirming media culture.
Sonali Kolhatkar will be speaking with Yes! Media editorial director, Sunnivie Brydum  at a Yes! Media-hosted, Seattle Town Hall event at 7:30 pm on Wednesday, September 6th.
The Wyncote NW Forum
Producer: Yuko Kodama
Photo Yes! Media and Sonali Kolhatkar
Producer: Yuko Kodama
Photo: cropped from KYRS photo
Listen in on this highlight of the organization with Marian Ortiz, HEART President and Mike Hause, HEART volunteer.
Some Spokane area animal centered organizations involved in sheltering and care efforts:
Spokane County Livestock Emergency Evacuation Team (SLEET)
Producer: Yuko Kodama
Photos: courtesy of HEART
A wildfire on Maui engulfed the town of Lahaina on August 8th and 9th.  With over 100 people dead in the aftermath, this event has been pronounced the deadliest blaze in U.S. modern history. 
Producer: Yuko Kodama
Photo: Hawaii General Store
Manu Meel, Co-founder of Bridge USA speaks with KBCS about why it's important to try to have conversations, and most importantly, to listen each other in times like this. 
Producers: Lucy Braginski and Yuko Kodama Special thanks to Sapan Parekh
Photo: Manu Meel
On the Block is an event to celebrate local artists in visual art, music, street-wear and food every second Sunday of the month through October.  KBCS's Yuko Kodama spoke with Julie Chang Schulman, Co-founder of Forever Safe Spaces, and is one of the Co-organizers of a coalition of artists who present the event held in Seattle's Capitol Hill neighborhood on 11th Ave and between East Pike and East Pine from 11 am to 7 pm. 
 Chang Schulman describes the foundations and mission of the event and coalition.
Producer: Yuko Kodama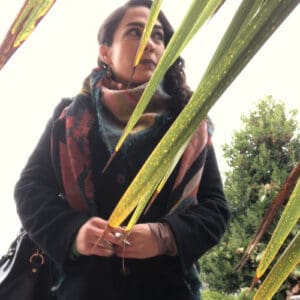 Indigenous Milk Medicine Week is August 8th thru 14th this year. It's a part of a series of observances celebrating breastfeeding during the month of August. Camie Goldhammer is a Social Worker, Lactation Consultant and Founder of the Native American Breastfeeding Coalition of Washington. She shares this year's theme for Indigenous Milk Medicine Week.
Resources: