A movement to outfit this weekend's marchers with pussyhats – knitted pink hats sporting cat ears, is taking local and national yarn stores by storm.  KBCS's Yuko Kodama visits a local eastside yarn store for details.
The knitted pussyhat pattern is here.  You can find crochet and sewings patterns for pussyhats on the pussyhat website.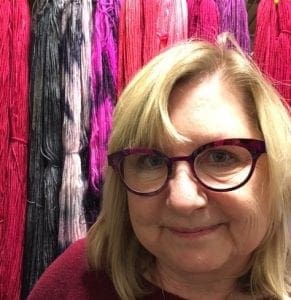 Debbie Frable with store dyed yarn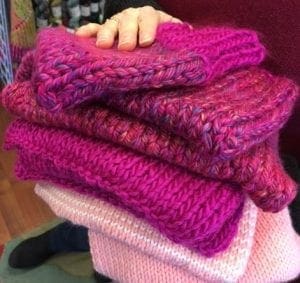 stack of pussyhats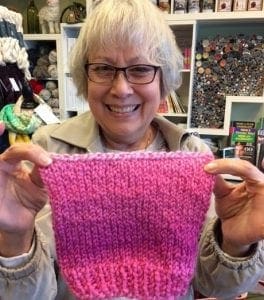 Suzanna Gilbert with a child's pussyhat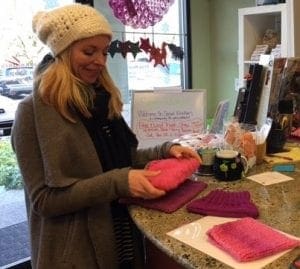 Jamie Lundeen getting ready for the DC Women's March
Legalization has brought a new face to the marijuana industry. This series explores the emerging marijuana industry with insiders and outsiders. You'll hear from growers, dispensary owners and communities of color impacted by the legalization of marijuana.
Episode 1  – Ryan Kunkel, Founder of Have a Heart Compasssion Care is the largest retailer of marijuana in Washington State.  He shares his perspective on how new regulations on the marijuana industry have affected medical marijuana patients.
Episode 2  – Ryan Day is the father of a young boy with Dravet syndrome.  He shares his unexpected path toward using medical marijuana to treat his son's condition.
Episode 3  – Julian Cooper is a Krone's syndrome patient who relies on medical marijuana to treat his condition.  He explains the impact of marijuana legalization on communities of color.
Episode 4 – Ryan Kunkel, Founder of Have a Heart Compassion Care and Leo Gontmakher, CEO and  President of Northwest Cannabis Solutions, the largest grower of marijuana in Washington state give you some backstory on the business of growing and selling cannabis in our state.
Episode 5 – You'll take a tour of Northwest Cannabis Solutions –  the largest marijuana grower in our state.   Jerry Derevyany, their legal counsel  leads the way.
Music: Rushus "5-29"
Producer: Yuko Kodama
Anne Marie Slaughter is the author of a recent book, "Unfinished Business: Women Men Work Family" and the celebrated article "Why Women Can't Have it All" in the magazine The Atlantic Monthly. Slaughter has been Director of Policy Planning for the US Dept. of State and Professor at Princeton University's Public and International Affairs School and at Harvard Law School. She spoke at Seattle's Town Hall.
Day 1
The Feminist Movement was successful in its campaigns for many reforms, but there's still a lot work to do.  Slaughter describes the current landscape of women in the workplace next.
Day 2
Anne Marie Slaughter has spent decades processing and writing about gender equality in the workplace.  Slaughter shares the complexities of balancing a career and caring for loved ones next.
Day 3
Anne Marie Slaughter says  we need to close the loop on the work of the women's movement.  Slaughter explains how we  still perpetuate expectations  of gender and work
Day 4
57% of women work.  70% of the women working have children.  And the average wage gap between women and men is over 20%.  Anne Marie Slaughter breaks down that gender inequality in the workplace is not a woman's problem.  She explains what the problem is, next
Day 5
We've been looking at the challenges of women in the workplace this week.  Anne Marie Slaughter shares what needs to happen in order to successfully incorporate the needs of families and workplaces into our lifestyles.
It's no surprise that the natural environment affects our nervous system and bodies in positive ways, yet kids today spend more than seven hours a day in front of entertainment media and an average of a half an hour outside. We highlight the power and benefits of nature on us this week.
Episode 1: Hilarie Cash is the Co-Founder of Restart Life Internet Addiction Recovery Center in Redmond, Washington. Cash and Ellen Krumm, a psychotherapist who specializes in problematic use of technology speak to how nature is one of the most powerful tools in healing internet addiction.
Episode 2 – 5: Wilderness Awareness School, Executive Director, Warren Moon describes how to make the most of the practice of spending time in nature.
Producer: Yuko Kodama
Music: Kevin MacLeod "AcidJazz"
Photo: Travis Swan "splash"
Tens of thousands of students of kids go back to school this fall in the tech corridor of the east side. We highlight Issaquah, Bellevue and Riverview school districts activities and programs.
Episode 1 & 2: Issaquah School District Superintendent, Ron Thiele shares his struggles in providing the infrastructure for the growing number of students in his east-side school district area.
Episode 3: The Riverview School District highlights a parent partnership program, more commonly referred to as PARADE, where homeschool families work with school district teachers to supplement their curriculum. PARADE Teacher, Connie Schutte, Student Sasha Charboneau Teece and Parent Nealy White share their experience with the program.
Episode 4 & 5: The Bellevue School District rolls out a new Science, Technology, Engineering, Math (STEM) and Social and Emotional Learning (SEL) curriculum for all of its elementary schools this year with plans to expand to all grades soon. Curriculum Developer, Greg Bianchi describes the new STEM programming in Day 4, and Curriculum Developer Wendy Powell describes the SEL program in Day 5.

Producer: Yuko Kodama
Music: Kevin MacLeod "AcidJazz"
Photo: woodleywonderworks
Our region's Native community is vibrant, and a force to be reckoned with.  From art and education, to  social services and political advocacy, we feature some of the leaders empowering the Native experience.
Episode 1 – Last October, local Lakota activist, and Co-founder of the blog, Last Real Indians Matt Remle made a breakthrough in Seattle with the replacement of Columbus Day for Indigenous People's Day. The event made national and international headlines. Remle discusses the importance of recognizing Native Americans on Columbus Day.
Episode 2 – This year, all Washington public schools are  mandated to teach Native American history and governance in the curriculum.   Mike Vendiola is a Swinomish member and Washington State's Native Education Program Supervisor for the Superintendent of Public Instruction.  He explains the need for the legislation.
Episode 3 – Pahnee Tribal Member and Chief Seattle Club Executive Director, Colleen Echohawk explains one of the core reasons why there's a disproportionate number of Native Americans on the street and without a home.
Episode 4 & 5 – Louie Gong is a Nooksack member, arts entrepreneur and educator who founded Eighth Generation.  He breaks down cultural appropriation and the impact on the native community.
Image – Courtesy of artist, Louie Gong "Modern Day Warrior"
Music – Rushus "crimson turtles", "05-29"
Producers – Ruth Bly and Yuko Kodama
According to the 2013 national census, people over 65 made up 14% of our population. And it's no secret that this population is growing rapidly. This week, KBCS explores ageing.
Episodes 1 & 2 – Seattle centenarian, and retired law educator, Isidore Starr shares how he navigates aging.
Episode 3 –  Adult Care Resources Manager and Companionship Caregiver, Judy Kimmerer lays out some ways to look at senior care
Episode 4 – Boeing retiree and caregiver to her mother, Candace Denegal shares her experience and some resources that helped her.
Episode 5 – Judy Kimmerer and Candace Denegal talk about the gift of caring for elderly loved ones.
Music – Kevin MacLeod "Off to Osaka"
Producers – Ruth Bly and Yuko Kodama
The Housing Affordability and Livability Agenda (HALA) rolled out earlier this month.  Since then, a lot buzzes around Seattle's proposed zoning changes, tenant's rights and interests and access to home ownership.
This week's series looks at some background on the HALA  report and on Seattle's movement for rent control.
Episode 1, 2 & 3 – Jonathan Grant is a member of the Seattle mayor's housing affordability and livability agenda or HALA committee and the former Executive Director of the Washington State Tenant's Union.  He's also running as candidate for Seattle City Council.  He goes into some backstory 0n the HALA report.
Episode 4 – Seattle City Councilmember Kshama Sawant addresses rent control in other U.S. cities.
Episode 5 – This piece offers segments of the Rent Control Debate at Seattle's Town Hall on July 20th. Speakers are Seattle City Councilmembers, Kshama Sawant and Nick Licata for  rent control.  Speaking opponents of rent control are State Representative, Matt Manweller and  Development Lobbyist and Director of Smart Growth Seattle, Roger Valdez 
Episode 6 – Executive Director of Homestead Community Land Trust (HCLT) Cathleen Hosfeld and HCLT homeowner, Estevan Munoz Howard discuss the land trust movement in Seattle.
Below is the full rent control debate at Town Hall on July 20th, 2015

Music: Rushus – Crimson Turtles
Image: Artist is Melissa Klein – print was created for an article by Sara
Shortt of the San Francisco Housing Rights Committee

Producers: Ruth Bly, Kei Imada and Yuko Kodama
You've heard the term fair trade.  It applies to everything from clothing to coffee to chocolate. And to music. Recently in Seattle, local musicians struck a fair trade agreement with some participating music venues and the city to create a set of guidelines for musician pay and equipment standards.
Episode 1 – Nate Omdal is a Seattle area musician, composer and community organizer for Fair Trade Music Seattle.
Episode 2 – Motter Snell is the president of the Musicians Association of Seattle Local 76-493.
Episode 3 – Julie Tall is the owner of a Fair Trade Music venue, Capitol Cider.
Episode 4 – Seattle City Councilmember, Nick Licata is the co-sponsor of the Fair Trade Music Day resolution.
Episode 5 – Nate Omdal is a Seattle area musician, composer and community organizer for Fair Trade Music Seattle.

Producers: Yuko Kodama and Ruth Bly
Music: Kevin MacLeod – 'As I Figure'
Image: Courtesy of Fair Trade Music Seattle
Over 200 Washington state farmers come into Seattle every week to sell their produce, meat and dairy. According to King County, sales by these farmers exceeded $21 million  last year. We feature highlights on local foods, as our region's farmers markets slide into full swing.
Episode 1 & 2: Brady Ryan is the founder of San Juan Island Sea Salt.
Episode 3: Jessica Tantisook is co-founder of Long Beach Washington's, Starvation Alley.
Episode 4: Corky Luster is the founder of Ballard Bee Company.
Episode 5: George Vojkovich is the co-founder of Skagit River Ranch.
Music – Gepel – "Ta Vieja Y Ya"
Photo – Alex D
Producers – Ruth Bly and Yuko Kodama