Du Dinh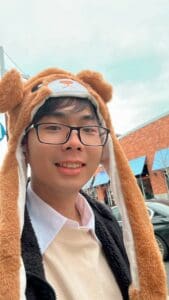 Hi guys, my name is Du Dinh. I'm currently one of the Global Leaders at Bellevue College. This is my second year here and my major is computer science. I love playing sports, video games, listening to music and throwing Pokemon games on YouTube. Today I would like to share one of my favorite songs with you guys. The name of the song is called "Có Đâu Ai Ngờ." It is a Vietnamese song by a Vietnamese artist, Cam. This song is about love and the melody and it's really slow and cute. I hope you can enjoy it and have a nice day!
Jemima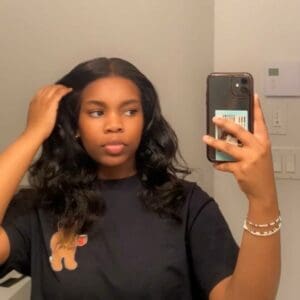 One of my favorite songs is "Tout Seul" by Gally and Heritier Wata. It is one of my favorite songs because it is a mix of emotions. It is quiet and at the same time deep. It's a song that I discovered when I went to Canada to see my brothers and sisters and I know it was one of the favorite songs of my brothers. So every time that I listen to it, I just remember summer there and a lot of memories. I feel just quiet, calm and happy. Even if it's a sad song – I don't know how, but I feel happy, because it also relates to a lot of stuff that has happened in my life before. I hope you enjoy it!
Julia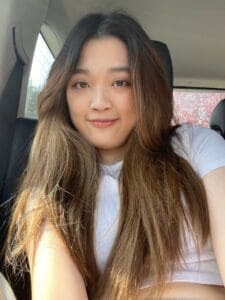 Hey guys, my name is Julia and I'm one of the Global Leaders at Bellevue College. I'm from Taiwan and I'm studying Business. I want to share this song called "If Only" by Ozi. He is a Taiwanese singer. This song is basically about rewinding time, and what he would do if he could talk to his grandma. I hope you like the song!
Kelan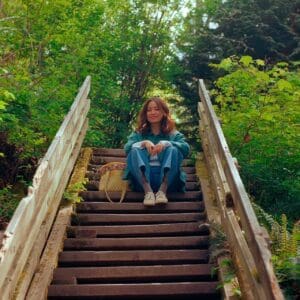 Hi, my name is Kelan and I come from China. This is my third year in the U.S and my second quarter at Bellevue College. I'm studying Digital Media Arts. I'm also a singer and songwriter. The song I'm going to introduce is actually a song that I released six years ago. It's called "Flower". This was one of the few songs that I wrote when I just started songwriting on guitar. Writing songs to me is like writing journals. I like to document my thoughts with melodies, and this song is one of the examples. A flower is a metaphor for thoughts that come and go and never settle for anything. It doesn't belong anywhere. A flower is free. It could go to any place, just like your thoughts. This song was awarded the top 20 singles by the Singapore Freshmusic Award in 2017. Please enjoy and I hope you like it!
Myo Han Tun Kyaw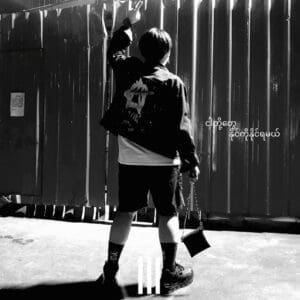 Hello everyone, my name is Myo Han Tun Kyaw and I'm one of the Global Leaders from Burma. I'm currently a computer science student at Bellevue College. Today, I would like to share a song from my country called "Yone Kyi Yarg" by Lay Phyu . Although the song was very popular in 2010, it got popular during the protesting stage of the Spring Revolution, when we protested against the military government.
So the reason why this song holds so much meaning for Burmese people, is because it tells us that we have to believe in what we are doing. And although we might have regrets and losses we still need to keep going to reach the final goal. In this song, people are literally sacrificing their life for this thing called "belief". It is relevant during the protests, because people are dying on the streets due to the military government.
Those people are fighting for freedom and we all are. So it helps us not to give up easily on our rights and freedom. The song is motivating and it's not only for protesting, you can listen to it anytime to get you motivated. It's a really good song. Enjoy!
Nada and Leda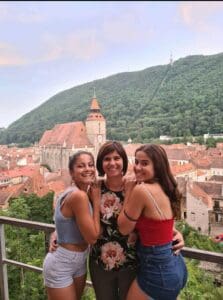 Nada: Hi everybody my name is Nada.
Leda: Hi everybody my name is Leda.
Nada: And we are from Italy. I'm currently studying at Bellevue College for my bachelor's degree in digital marketing. I love this song called "A Te" because it truly reminds me of the bond I have with my family.
Nada and Leda: In Italy, the family "La Famiglia" is really important.
Michelle Myles is Snohomish from Tulalip, and is a Lushootseed Language Teacher at Tulalip Heritage High School in Tulalip, WA. Myles describes how she talks with students about incorporating Lushootseed (a language spoken by a number of Coast Salish tribes in this region) into life today.
The House Select January 6th committee completed their eighth hearing this month.  More hearings and an initial report is in the works for September, as the group continues to investigate the event. 
Nate Gowdy is a local documentary photographer whose work has graced the cover of Time magazine.  He's been photographing the Trump campaigns and rallies for years, and was at the nation's capitol on January 6th 2021.  Gowdy has a book coming out soon titled Insurrection, featuring over 120 photos from that day.  It's edited by Lisa van Dam-Bates.
KBCS interviewed Nate Gowdy and Lisa van Dam-Bates in July.
Producer: Yuko Kodama
Photos: Nate Gowdy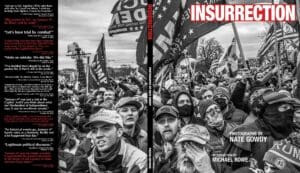 After much discussion, Congress passed legislation to establish Juneteenth as a national holiday. President Joe Biden signed the bill on June 17, 2021.
This KBCS audio excerpt explores important details about Juneteenth and what happened on June 19, 1865.
KBCS's Kevin Henry speaks with Kwami Abdul-Bey a Co-convener of the Arkansas Peace and Justice Memorial Movement and a Trustee of the Arkansas Historical Association.
Since 2015, local photographer, Nate Gowdy has been working on a personal project to document the Trump era's political campaigns and culture.  On January 6, 2021, he was in Washington DC to document the atmosphere around the Congressional confirmation of electoral votes for Rolling Stone.  The day was interrupted by a mob attack on the country's capitol building.  Gowdy shared his experiences with KBCS's Yuko Kodama within a week after the event.
For over three decades, KBCS DJ, Larry Lewin, chronicled a history of recorded folk music. Each week was a fresh page. Now the book is complete. On May 28th, Larry will step aside from Our Saturday Tradition, the Saturday morning folk music program he has hosted since 1988.
"Larry is exactly as you hear him, genuine, humble, warm—devoted to the music and the craft. He never misses an opportunity to learn and grow or to contribute toward the greater good. It's difficult to imagine KBCS without his gentle, steadfast presence." – Patrick Whalen, KBCS Program Director
A native New Jersey, Larry moved to Seattle in his 20s and embarked on a long career as a Boeing engineer, where he was involved in developing state-of-the-art fighter jets.
Drawn to KBCS by his long time interest in folk music he soon earned a slot on air. KBCS listeners have spent many a Saturday morning with Larry, his forthright and enthusiastic presence a reliable touchstone.
"It is bittersweet to see Larry move on. His work over the last 30-plus years provided us all with solace, comfort and enjoyment. He epitomizes the best of the Seattle folk scene and the values of Northwest Folklife. Thank you, Larry!" – Benjamin Hunter; musician, Creative Cultural Advocate, Artistic Director of Northwest Folklife.
Behind the scenes, Larry devoted countless hours to preparation, dutifully listening to every new release, taking careful notes, and scouring the vast KBCS folk CD library for songs living deep in his memory. There is a hand-written playlist for every show, filed carefully within an ever-growing set of three ring binders.
"Larry's dedication is unsurpassed, especially when entering the brave new world of producing remote radio during the pandemic. With over three decades of hosting folk shows on KBCS, he is a trove of knowledge of all kinds of folk music. But putting together a good show takes so much more than just knowledge alone; it's Larry's taste in carefully choosing selections that made his shows filled with 'sweet sounds.'"  Thank you, Larry, for all your years of bringing us great music!" – Jean Geiger, KBCS Folksounds host/producer
Please join us in celebrating Larry Lewin.
Notes of appreciation may be sent to dj@kbcs.fm or KBCS, ATTN Larry Lewin, 3000 Landerholm Circle SE, Bellevue WA 98007
You might say public radio is in the Embler blood, once upon a time, Zoe's father Robert Embler was a host and producer for Tennessee stations WDXN 54FM and WAMB 1160AM/98.7FM. Zoe listened to local NPR affiliate station WPLN 90.3FM at least once a day throughout her childhood and still tries to tune in when she can via the magic of online streaming.

Thank you to everyone who donated to true Community Radio KBCS during our Spring Fundraising campaign. This annual campaign was successful because of the generosity of listeners, like you, which comprises the largest and most important source of operating income for KBCS.  I am happy to report to you that we are still slightly ahead of where were last year at this same time, and last year was one of the best years ever for KBCS fundraising.
Other, larger noncommercial educational radio stations often have large endowments, robust institutional support, and deep pocketed corporate sponsors they can rely on in addition to listener support. But at the smaller independent stations like KBCS, listener donations are primarily responsible for keeping the lights on.
True community radio stations like KBCS help build stronger communities by providing a broadcast platform for everyday people and not just broadcast professionals to have a voice on the air.
At KBCS, over 80% of our programming is produced and hosted by local volunteers. Think about that for a minute. Local people sharing their passion for music and life here in our unique little corner of the world. That's important and a hallmark of a thriving and more egalitarian democracy. I believe that the public airwaves belong to all of us and not just a privileged few. I'm sure most of you do too.
Community radio stations like KBCS often tell the difficult stories of marginalized people that are all too often ignored by the mainstream media. Independent community radio stations like KBCS, understand the need for a more enlightened and informed electorate and live by the belief expressed by President Thomas Jefferson that, "a nation that expects to be both ignorant and free…expects what never was and never will be."
Again, thank you for your support of true community radio here in the beautiful Pacific Northwest. For nearly fifty years, regular donations from everyday people like you have kept this tradition of true community radio alive at KBCS. But remember we don't only need your financial support we also need your moral support so help us spread the word and make sure our local elected officials know you support increased funding for independent noncommercial radio like KBCS.
In closing, I want to acknowledge two people at KBCS that have decided it's time to move on. For the past 33 years Larry Lewin has hosted the popular folk music program, "Our Saturday Tradition" on KBCS. Although Larry officially retired from Boeing many years ago, he has now decided to retire from hosting his radio program on KBCS. Also, our popular late afternoon music host, Judy Lindsay, has completed her education at Bellevue College and is now moving on to pursue her passion for digital media and filmmaking. Both Larry and Judy will be sorely missed, and we all wish them the best of luck as they embark on a new stage of their life journey.
Dana Buckingham
General Manager and Proud Sustaining Contributor of Community Radio KBCS
Bellevue College is hosting a series of Earth Week events. One of them takes place this Saturday at (10 am to 12:30 pm). 
Bellevue College retired faculty member, Kent Short will discuss how climate change impacts local outdoor enthusiasts.  Then, Bellevue College Emerita Wendy Pickering will facilitate a discussion on how to talk constructively about climate change with our friends and loved ones. 
Bellevue College hosts Earth Week:  Below are events that students and the public can register for.
BTS, the South Korean music group has taken the global music scene by storm, breaking records in numbers of albums sold and spun, twitter follows, number of fans, sold out concerts and much more. 
Their influence has been noted by many, including governmental officials who have tried to suppress BTS's reach and image in public. This story looks at who they are, their work and social reach in partnership with their fanbase, ARMY.
Reuters graph of BTS/ARMY fundraising for Black Lives Matter
Producer: Yuko Kodama – special thanks to Sam Sullivan, Christine Marasigan, Nancy Yang, Candace Epps-Robertson, Laura Mundt, Angela Young and Sherry Lynn Reynolds Anderson
Photo: Ashley[epidemic]